RUNNING
Sept'09
   

COMMENTS
Junior Great North Run 2009
<![if !vml]>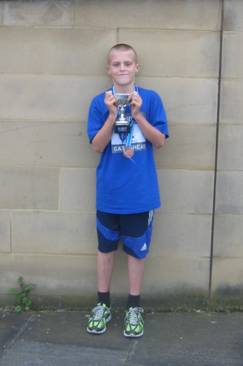 <![endif]>At this year's Junior Great North Run, Jacob Hall was second finisher in a field of over 500 runners from all over the country. An excellent run from Jacob!
Autumn Relays
Wednesday 7th October
Riverside Business Park
You will be placed in teams of 3 of equal ability
Distance 2:3 miles
Awards: First 3 teams, Fastest male and female
Open to all members of Blyth Running Club Aged 16 and above
To enter, tick entry sheet on notice board or let Ralph know,
entries close Friday2nd October
First runner off at 19:15
Summer Cup 2009
Another successful Summer Cup series with Wendy Herron winning the League by two points from Sharon Richardson, both Wendy and Sharon improved their times over the Series by over  one minute. Richard Shillinglaw was in third place. The team prize was won by "Bush Pounders"; Graeme Stewart, Robbie Barkley, Steve Bush, Paul Whalley, Chris Stone and Paddy Brolly. Race winners were; Aynsley Herron, Jake Jansen, Amanda Johnson, Sarah Herron, Sharon Richardson and Joanne Straughan
Facts and Figures: 79 people ran at least one race
                            Paul Whalley set a new course record of 12:48
                            The largest turn-out was 61 finishers, the lowest was 48
                            Fastest lady was Leanne Herron with 15:32
Officials
Once again the annual call comes from Athletics in the North to try and recruit more officials. When we compete in the Track and Field League we have to provide our quota of officials and this can sometimes be a struggle. There is a one day officials course at Gateshead on Sunday November 1st. There is a cost which will be met by the Club. The first session is a generic session (Introduction) and then there are different sessions depending on whether you wish to be a timekeeper, track judge, field official.
Currently the club has three timekeepers (Kevin Freeman, Liz Freeman and Craig Birch) and two Track Judges (Keith Willshire and Steve Bush – Steve being one of the NE top photo finish people).  To progress you need to officiate at meetings during the year, but there are plenty of them, it's up to the individual how far they wish to go. So far I've officiated at the NE T&F Championships, English Schools Championships, GNR and the Grand Prix at Gateshead
SANDS RACE 2009
This years Sands race is the 50th, so the committee are trying to make it a special occasion.
Several ideas mentioned were 1959 price entry fee for the first 10 (this was one shilling – 5p in modern money, the committee have already taken up the first ten entries), free entry to the Links 10K, Summer Cup and Winter Series to all Blyth entrants, some sort of memento to mark the occasion. We are busy pricing the last option and it maybe feasible for the first 125 entries.
I am busy delving back though the archives and hopefully will be able to produce a brief history of the race.
This years race is Sunday 6th December, start time 11:00.
The race HQ will be at the Dave Stephens building at the beach car park
As usual we will need volunteers, helpers to assist with registration, results, tea making etc
If anybody is willing to help can they please let Ralph know ASAP.
Social
A social sub-committee has been set up and consists of Aynsley Herron, Mal Darbyshire, Leanne Herron, Louise Douglas and Ron Ingram. If anybody has any ideas just let them know.
The Social Club Committee has arranged a Quiz night with a buffet for Blyth Running Club members and their family/friends. This is in conjunction with the Autumn Relay and Summer Cup Presentations.
A poster with all the details is displayed on the club notice board inside the Sports Centre.
<![if !supportLineBreakNewLine]>
<![endif]>
Main Details:
Presentation for Autumn Relay and Summer Cup @8.30pm, at the Top House, Blyth.
Wednesday 7th October 2009 (after the Autumn Relays).
Quiz - hosted by Louise and Helen will follow after the presentation and will include a buffet.
£2 per person to be paid on the night.
Teams of 4/5 with a prize to the winning team.
A reminder that the Christmas Disco takes place on Saturday 28th November 2009 at the Sea Horse Public House. (Further details will follow)
GNR 2009 – An Alternative View
Once again I officiated at both this years Junior and Senior Great North and it's quite fascinating to take a 'non runners' perspective. Nobody apart from maybe the elite 20 – 40 runners can actually call the GNR a race, it's an occasion  and it would appear that they are trying to make the whole week-end a sporting activity, with Pole Vaulting, Shot Putting, Sprint Races and long Jumping on at the quayside (plus the 'pasta party exhibition' – which I thought was quite poor).  According to the BBC there were over 50000 runners in the race, but they actually meant entries with approximately (I believe) just under 40000 finishers – so 14000 didn't bother turning up – that's a lot of money for nothing.  Even with that many not turning up, it still took nearly 40 minutes after the gun before the last runner passed the start. Everybody I talked to at the finish said the same thing, the standard of Club runners seems to be dropping, in the late 80's early 90's a sub 1:20 would probably have got you in the first 500 – 1000, now it would get you in the first 100 – 150. Still, it was impressive an performance by James Cracknell to do a sub 1:20 – because he has a big body to drag around 13 miles. The heat obviously affected the runners as I saw a lot collapsing in the last 100 yards and quite a few had to be helped over the finish line.
They still don't seem to have sorted out how that many people can get away from the area quickly, because the traffic jams were horrendous, the queue for the ferry was very very long, luckily with the fine weather people didn't seem to mind too much.
There was the usual range of runners in fancy dress and as I saw a man dressed as a chicken racing in against a woman dressed as an egg, I thought "that's going to answer an age old question".
For those interested next years is provisionally booked for the weekend 19/20 September 
Children In Athletics Report, 13th September 2009  -  Craig Birch
On arriving at Gateshead Stadium just before 9 o clock on a Sunday morning, it could be forgiven that things did not seem to be as organised as they perhaps should have been. For example Emma, Steph and myself, among others, had been omitted from the register despite having been sent a full copy of the register and a plan for the day several days before the course.
The coaches taking the course were Ed Griss (level 4 throws, jumps and sprints coach, former Great Britain shot put and discus coordinator and lover of anecdotes) and Andy (level 3 sprints and throws coach and level 2 jumps coach); both of whom are involved in education in one way or another. Having been introduced to the coaches it was quite obvious that they both knew what they were talking about and it was worth paying attention to them.
The first part of the day was spent in the classroom, this was primarily to introduce us to the course and to remind us that the course was centred on coaching children aged 8 to 13. It doesn't take a genius to know that coaching young children is different to coaching older athletes but the reasons behind it seemed to come with difficulty to the people taking the course. Of course there are the obvious reasons, i.e. young children have a larger capacity to learn than older athletes, but the main reason is that young athletes come in many shapes and sizes. That is to say that if you were to see a tall, stocky man with defined legs at the world championships then you would probably label him as a thrower of sorts, and probably wouldn't be wrong. However at such a young age children haven't yet developed fully or at all and so a short, skinny boy could well be the next Olympic shot put champion or Wimbledon finalist. It was also stressed that athletics can be used as a gateway into other sports because of the wide range of movement and fitness it can provide the young athletes with, it is therefore important to introduce all aspects of athletics to children whilst they are still children; not only to make it more fun but to help them develop into better all round athletes.
After an elongated classroom session and a short break we headed down stairs to Gateshead's indoor track area. Here, after discussing the importance of the warm up, we played the obligatory game of Domes and Dishes, as stated by UKA, and a few other drills to get us warmed up for the practical sessions that lay ahead of us. The whole group then combined for a cycling style pursuit game, by splitting into two teams and race walking around a circle, which had been marked out by Andy and Ed, and chasing the other team until one team either caught the other team or completed 4 laps before the other team. Despite it being a fun activity, it was basically walking round in a circle and so it was emphasized that it could be jazzed up in order to maintain the interest of the younger athletes- who have a much smaller attention span than the older among us. We then sampled a few event specific activities: such as "stepping stones", which is used to introduce people to triple jump, and a relay of sorts; I couldn't help but notice that pretty much all of the endurance specific activities were, in short, running in a circle as a part of a two or three person team. Although it is good endurance practice, I do feel that there was a lack of imagination when it came to the endurance activities.
After lunch the group continued to tryout the other event specific games, with more difficulty than before lunch as many of the people taking the course had never even attempted to do anything other than running. Even with Ed there, we struggled to grasp discus…me more than others!
Having finished with the practical part of the course we went back upstairs to sort out the assessment part of the course, which seemed to be quite a daunting prospect to many of us, this was also quite poorly organised: partly because of people not showing up and partly because of a lack of thought…cross country relays is clearly not an indoor event. However, having sorted out which sessions we were taking we headed downstairs for the important part of the course.
The group split into two, half went with Ed and the others with Andy, and then we started the assessment. Of the three of us, Steph was the first to demonstrate. She had been given a continuous relay event and also gave herself the title of "cheerleader…WOOOO". She did a fine job and passed the assessment. Next up was me, I had been given a standing long jump activity called "jump the river", which I rather enjoyed to say the least, and I also passed the assessment. Finishing up was Emma, who had been given a fairly complicated "endurance game" which combined running with throwing. Nonetheless she also succeeded in her assessment.
Having finished the course we went back upstairs to discuss what it was we are now qualified to do, the Children in Athletics course is equivalent to a level 1 coaching qualification so congratulations to Steph on becoming an assistant coach. Because it is equivalent to a level 1 we can now move straight on to level 2 which is a full coaching qualification, i.e. you don't need assistance. I felt the course, despite some poor organisation, was very helpful in terms of awareness and confidence and I would recommend it over a level 1 course, especially if you intend to work with children.
WINTER SERIES
The first winter series was way back in 1989, so this is the 20th anniversary of the series.
WINTER  SERIES   2009/10      RULES.
1.       THE SERIES WILL CONSIST OF SEVEN RACES.
2.       THE SERIES IS OPEN TO CLUB MEMBERS ONLY. 
3.       AN INDIVIDUALS' BEST FIVE RACES OUT OF SEVEN WILL COUNT TOWARDS THEIR FINAL SCORE.
4.       POINTS WILL BE ALLOCATED THUS:-  WINNER  1.  SECOND   2.  THIRD  3. ETC.
NON-RUNNERS WILL RECEIVE THE NUMBER OF RUNNERS + 1 AS THEIR POINTS
5.       THE OVERALL WINNER WILL BE THE ONE WITH THE LEAST POINTS FROM THEIR BEST 5 RACES.
6.       EACH RACE WINNER WILL RECEIVE AN AWARD.
7.       THE OVERALL WINNER WILL RECEIVE AN AWARD.
8.       ONE SPOT PRIZE WILL BE AWARDED AFTER EACH RACE.
9.       ANYONE COMPLETING ALL SEVEN RACES WILL BE PLACED INTO A DRAW TO RECEIVE AN AWARD.
10.      TEAMS WILL CONSIST OF 6 MEMBERS, WITH THE FIRST 4 FINISHERS TO COUNT.
11.      ALL MEMBERS OF THE TEAM WITH THE LEAST POINTS OVER ALL SEVEN RACES WILL RECEIVE AN AWARD.
12.      MINIMUM AGE WILL BE 11
13.      ANYONE ACCOMPANYING A RUNNER MUST RUN BEHIND THE RUNNER AND NOT HINDER OTHER RUNNERS
14.      RUNNERS ARE ADVISED THAT IT IS DANGEROUS TO RUN WITH MUSIC EQUIPMENT AND EARPHONES AND THEY MAY NOT BE ALLOWED TO RUN
15.      REFLECTIVE/BRIGHT KIT MUST BE WORN           
RACE DATES

1

WED.

NOVEMBER

4th

2009

2

WED

DECEMBER

2nd

2009

3

WED.

JANUARY

6th

2010

4

WED.

FEBRUARY

3rd

2010

5

WED.

MARCH

3rd

2010

6

WED.

APRIL

7th 

2010
There will be a seventh race, we just need to decide whether to have it in the weeks leading up to Christmas and make it  a social night or fit it in later on.
Coaching
If anybody is interested in becoming a coach the following courses are available:
Level 1                       October 18th Gateshead
                                  December 13th Coach Lane Campus, Newcastle
Level 2 Core              November 7th/8th Gateshead
Level 2 Modules         December 19th/20th Gateshead
Iain, Susie and Steph are hoping to do the Level One in October. Funding is available, but people should be aware that they will have to help out at club sessions and possibly at other sessions organised by UKA/Northumberland Sport
                                                  See Keith for further details
Cross Country Running? Why not!
Are you looking for a little variety in your training or racing? Are you considering trying a trail run or fell race? Do you want to escape the constant pavement of urban running? If so, then cross country running might be the answer for you.
What/Where – Cross country races are run over almost any non paved course. Country parks, old pit-heaps, school fields are typical venues. A good cross-country course will contain a variety of terrain. Typically, the course will contain 1/3 uphill running, 1/3 downhill running and 1/3 flat running. Rough ground, mud, and even creek crossings are often incorporated into courses. Blyth enters teams in the Harrier League and there is no cost to the athlete, with the races being handicapped, and the format is:
               Juniors: The Under 13's are usually the first race at 12:30, followed by Under 15's. There are two                                                                    packs, Slow and Fast. Anyone running in their first Harrier League should start in the slow pack. Depending on number of entries, anybody finishing in the first six will be promoted into the next pack. Depending on the distance (normally about 2 – 3K), the slow pack will start off 50 - 90 seconds before the fast pack
             Senior Men: Races are generally between 5.5 and 6 miles, and start at approx 1:15pm. There are three packs, Fast, Medium and Slow. Anyone running in their first Harrier League race will start in the slow pack. Finishing in the first 30 in any league race will result in you moving up to the medium pack for the rest of the season and the whole of the following season, and you will start two and a half minutes after the slow pack. Running from the medium pack and finishing in the top 20 results in you moving up to the fast pack for the rest of the season, and the whole of the following season, starting 5 minutes after the slow pack. The first 6 Blyth members to finish the race, irrespective of which pack they started in, will count for the team.
            Senior Women: Races are normally around 3 or 4 miles, and start after the Senior Men's race finishes. There are two packs, Fast and Slow, which work along similar lines to the men's. Finishing in the top 5, I think, from the slow pack will take you up into the fast pack. The first 3 Blyth members to finish the race, irrespective of which pack they started in, will count for the team.
           Under 17's: Normally after the Senior women and there are two packs, Slow and Fast.
Who – Many of us participated in cross country running as school children.  Generally speaking, the sport is very inclusive; you need not be a sub 40 minute 10 km runner to participate. Wallsend won the League last year mainly because they usually had about 40+ runners at each race. Even the National Championship is an open race; any club member is eligible to participate and some of us do
When –The dates and venues for the Harrier League are as follows:
             Sherman Cup / Davison Shield Sat 24th October (probably Temple Park, South Shields)
Use your number for the Harrier League and keep that number for ALL Harrier League fixtures.
                           No 'packs' in Sherman Cup/Davison Shield
                                                               League
Sat 28th Nov Farringdon School, Sunderland (organised by Sunderland H)
Sat 9th Jan East Cramlington Nature Reserve  (organised by Blyth RC)
Sat 30th Jan Newcastle Town Moor (organised by Elswick H)
Sat 13th Feb Wrekenton (organised by Saltwell H)
Sat 20th Feb Temple Park, S Shields (organised by Jarrow & Hebburn)
Sat 27th Mar Prudhoe (organised by Tynedale H)
Why – As I said in the title, why not!! Cross country is a nice change from the average road race or track race. The undulating terrain of most courses will help you develop hill running skills and better balance. Training on softer, cross country type surfaces reduces the impact on your knees and other joints.
While these are great reasons, there is one other huge reason you might want to try a cross country race: Where else in your adult life are you actively encouraged to go out and play in the mud?
<![if !vml]>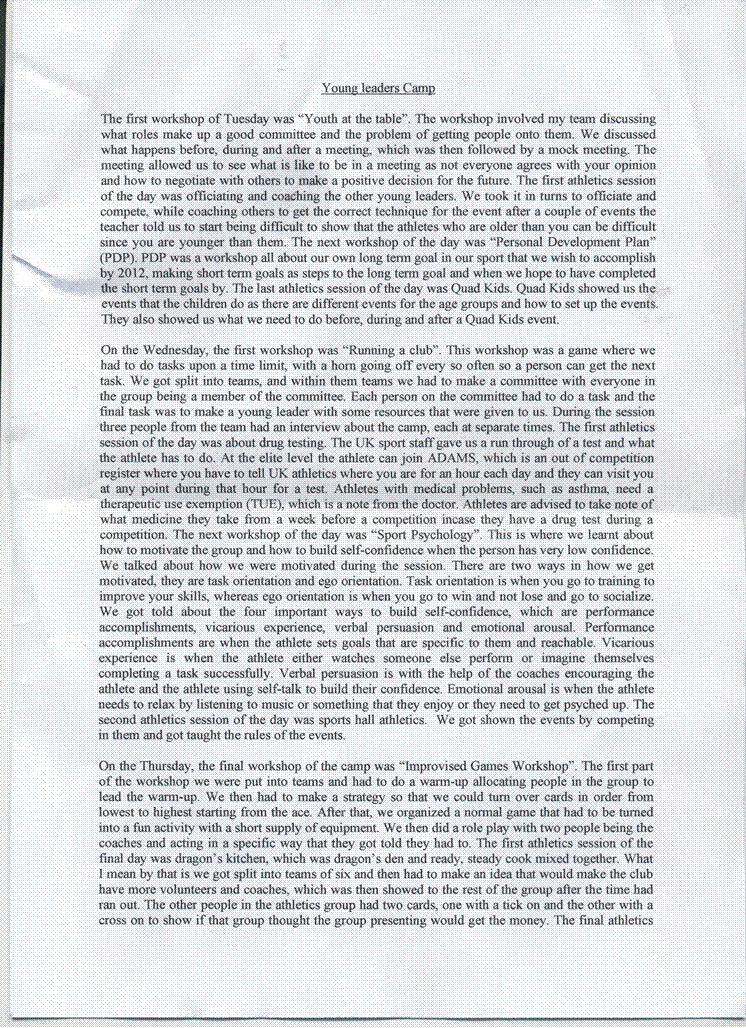 <![endif]>
  <![if !vml]>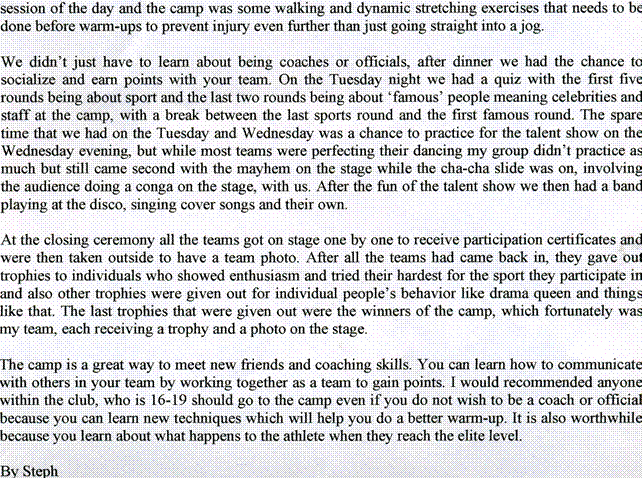 <![endif]>
National Cross Country Relays
The above events take place at Berry Hill Park, Mansfield, Nottinghamshire on Saturday 31st October 2009.
The Club would like to send representatives to as many of these events as possible. Club pays entry for race but there will be a charge for transport
The different categories showing gender, age groups, distance for each leg and start time of event is shown below.
Basically, apart from the Senior Men who have to enter as teams of 4, every other event is for teams of 3.
                        Under 13 Girls (3x2K) at 11.45 am.
                        Under 15 Girls (3x2K) at 11.20 am.
                        *Under 17 Women (3x2.5K) at 12.40 pm.
                        *Junior Women (3x2.5K) at 12.35 pm.
* to be run as one race with 5 minute start between start of Junior and Under 17 Women - results will be recorded as two separate races
                        Senior Women (3x3K) at 1.35 pm.
                        Under 13 Boys (3x2K) at 12.10 pm.
                        Under 15 Boys (3x2K) at 11.00 am.
                        **Under 17 Men (3x3K) at 1.10 pm.
                        **Junior Men (3x3K) at 1.05 pm.
** to be run as one race with 5 minute start between start of Junior and Under 17 Men - results will be recorded as two separate races
                        Senior Men (4x5K) at 2.15 pm.
Anybody interested see Ralph, Juniors see Keith ASAP
Juniors
                                  Farringdon Cross Country
Seventeen Juniors competed at Farringdon in the first cross country of the season on an extremely hot day and a hard, testing course.
In the Under 11 boys, Harry Davey had an excellent run to finish fourth in 4:20, well supported by Taylor Glover in 14th and Adam Swalwell 20th.
All the other Juniors  ran the same distance and course as the seniors, which was 1.7 miles.
Jacob Hall ran strongly and 'killed off' the opposition on the last hill to win the Under 13 boys race, with Mark Nicholson next for Blyth in 16th position and James Young in 20th.
Charlotte Ramsay was the solo Blyth girl in the Under 13 girls and struggled in the heat but still managed to finish in 15th position.
In the Under 15 boys, Scott Povey was first back in 11th position , with Chris Arkless in 12th and Jake Jansen in 17th. While Michael Scott and Scott Goodfellow both finished in the top 30, with Hayden Connelly another runner who struggled in the heat.
In the Under 15 girls, Rebecca Nail finished 10th with a time of 12:27
For the Under 17 girls, Emma Freeman finished in 8th, Kirstie Johnson 12th and Stephanie Ramsay 14th.
For the record, not many Seniors from Blyth ran faster than Jacob and some of the Under 15 boys, while Rebecca was the fastest female from Blyth
                                        Autumn Relays
This years Junior Autumn Relays will be on Monday 19th October at Riverside Business Park.    
Ideally, we like all the Juniors to run. The distance is one mile and there will be teams of 3. See Keith for further details
                                        Winter Series
Any Juniors wishing to do the Winter Series need their parents' permission and can see Keith for further details
                                                    Mini Athletics
The Indoor mini athletic sessions have started at Blyth Sports Centre on Wednesday nights, 17:00 – 18:00. There are still a few vacancies if you know of any under 11's interested. The sessions are organised by Steph and Craig with Emma helping.
           Heaton Town Moor Memorial Races 8th November 2009
Important race this year, I would like as many as possible to run
Event A: Under 11 boys/girls (minimum age 9 on 08/08/09) - Approx 1km. Starts 9:50am.
Event B: Under 13 boys/girls (minimum age 11 on 08/08/09) - 3 km. Starts 10:00am.
Event C: Under 15 boys/girls - 3 km. Starts 10:15am.
Event D: Under 17 men/women and Under 20 Junior men/women - 5 km. Starts 10:30am.
Club pays Junior entries, but if you enter and do not run then you have to pay money back to club.
                                               See Keith for further details
                              Junior Training Sessions October – November
                                                  October 2009
Sun

Mon

Tue

Wed

Thu

Fri

Sat

27

28

Training Night - Quayside

29

30

Indoor Mini Athletics

2 +

4 +

Training Night - Quayside

6 +

7 +

Indoor Mini Athletics

Training Trading Estate

9 +

11 +

13 +

Trading Estate

16 +

18 +

20 +

Trading Estate

23 +

25 +

27 +

28 +

29

30 +

Relays, Mansfield
                                                     November 2009
Sun

Mon

Tue

Wed

Thu

Fri

Sat

1 +

3 +

Trading Estate

6 +

7 +

10 +

Trading Estate

13 +

15 +

17 +

Trading Estate

20 +

22 +

24 +

Trading Estate

27 +

29 +

1

2

3

Trading Estate

4

5
During the Winter there are extra sessions on if anybody is interested, although Saturdays will be quite hard.  Basically, Monday nights are at Quayside (usual Monday sessions), Thursday nights are at Riverside Industrial Park (19:00-20:00), Saturday mornings at East Cramlington Nature Reserve (10:00-11:30) – cross country training (hills, mud, etc)
Plus the usual HJ on Fridays at Jarrow
Blyth Running Club
Minutes of meeting held 5th August 2009
Apologies: None
The meeting commenced at 8.34 p.m.
The Chairman welcomed club member Craig Birch to the meeting. Ralph had nominated Craig to become a member of the committee, and Keith had seconded this nomination. Craig was accepted onto the committee and will fill the final vacancy.
Minutes of meeting held 6th July 2009 were read and approved. This was proposed by Mal Darbyshire and seconded by Iain Singer.
Matters Arising
Blyth RC SWOT – Dave Kitching, Ralph Dickinson and Kevin Freeman had met and discussed 5 of the 8 sections and had identified where improvements could be made. It had been agreed to meet again on 27th August to complete the remaining sections. All findings will be reported to the committee and then any necessary actions can be decided upon.
Notice Board – One of the boards had been moved. Kevin will speak to the Sports Centre to ascertain when the other one will be moved.
Club Flag – This has arrived and had been proudly displayed at the Track & Field event at Churchill.
BMAF 10K – These championships had been offered to Newton Aycliffe. BRC could be offered the NE Vets Athletics Championships. .
Chairman's Report
Kevin reported that he was pleased and delighted with the Juniors finishing 2nd overall in their T & F League and so getting promotion. He was pleased and delighted with the Seniors finishing 3rd overall in their T & F League in their inaugural season. Well done. Kevin noted that life isn't always good news and that past and present members have had problems and difficulties to deal with recently. Stalwart/Life Member Bob Soulsby lost his wife and Treasurer Dave Kitching had been poorly recently. On behalf of all BRC members he extended sincere condolences and best wishes respectively to these two gentlemen of athletics.
Secretary's Report
Ralph reported that since the last meeting we have one new member. There had been no resignations in the same period. Correspondence received included;
England

Athletics Magazine - Setting the Pace.

Northern Athletics Newsletter for July.

A list of Courses from England Athletics.

Entry Forms for

Wakefield

Hospice

Sandal

Castle

Multi Terrain Race on 6th September 2009.
Treasurer's Report
Dave reported that funds are still healthy.
Mens Captain Report
The combined team of

Blyth

and Wallsend had just completed a very successful season in the

Track & Field League. The team had finished 3rd in each match and ended up 3rd overall.
30 members took part; 21 men and 9 women, in the Northumberland Coastal Run. The first three men back were Paul Whalley, Peter Brown and Robby Barkley finishing 23rd, 26th and 45th respectively. In the V60 category Joe Frazer was 2nd and Dave Cox 3rd.
We had a really good turn out at Morpeth 10k with 42 members taking part; 30 men and 12 women. The first three men back were Paul Whalley in 12th, Robby Barkley 23rd and Peter Brown 26th. Martin Gaughan was 2nd V50, and in the V60 category Joe Frazer and Terry McCabe finished 2nd and 3rd respectively.

The

Sunderland

5k had 14 members participating, 8 men and 6 ladies. The first three men back were Craig Birch, Adam Smith and Gareth Hope, finishing 71st, 72nd and 103rd respectively.

Plans are in hand for the Men's Six Stage Road Relay Championships at

Leeds

on 26th September 2009.
Ladies Captain Report
Helen had been impressed with all the ladies efforts at Churchill in the Track & Field League. Heather Barrass and Helen Bruce had competed well for the first time, and Leanne Herron performed extremely well in her first ever triple jump competition.

9

ladies had participated in the Northumberland Coastal Run. The first three ladies back were Leanne Herron, Helen Bruce and Julie Lemin finishing 11th, 21st and 28th respectively.

Susanne Hunter had competed in the Kelso 10k.

6 ladies completed the

Sunderland

5k with the first

Blyth

lady being Helen Morris who also finished 1st F45. The next two ladies were Julie Lemin and Emma Freeman who finished 23rd and 27th respectively.

12 ladies turned out for the Morpeth 10k. The first three ladies back were Leanne Herron, Helen Bruce and Julie Lemin finishing 9th, 29th and 49th respectively

.

Plans are in hand for the Senior Women's Four Stage Road Relay Championships at

Leeds

on 26th September 2009.
Social
Aynsley will be setting up a separate sub-committee.
Kit
Mal is waiting for extra ladies kit. Mal was asked to comment on the Grand Prix. There has been a reasonable amount of members competing in each league. With only two races to go there was still good competition in each league. It would appear that things are ok.
Mal reported that he had been asked why the Club didn't pay for entries into Grand Prix Events. A discussion ensued, the summary of which is outlined in AOB under Affiliation and Race Fees.
Juniors
Keith had the following to report.
<![if !supportLists]>· <![endif]>After the final match in the 2009 Young Athletes League at Monkton Stadium Blyth Running Club (combined with Alnwick Harriers) have gained promotion.
<![if !supportLists]>· <![endif]>The juniors will be competing in the Young Athletes Road Relay Championships at Leeds on 27th September 2009.
AOB
Donation – The club had made a £30 donation to the Mrs Soulsby Charity. The committee wishes to thank Mr & Mrs Logan and Mr & Mrs Frazer for attending to the details.
Running Standards – it was agreed that a section could be added to the Training Schedule to illustrate which sessions would be suitable for beginners.
Summer Cup – Due to the unfortunate illness suffered by Dave Kitching it was agreed that we would reduce the Summer Cup to a series of 6 races, with the best 4 results to count for the individual result.
Tynedale 10 mile – A bus has been organized for the Tynedale 10 mile. The cost will be £9.00.
Track & Field – The inaugural venture into the Track & Field League as a combined team with Wallsend had been successful. The question was asked, can we go it alone? Can we look into training for the various field events?
Affiliation and Race Fees – The outcome of the discussion can be summarized as follows;
BRC pays an annual affiliation fee to UK Athletics. This entitles all club members to a £2.00 discount on all race fees.

BRC pays an annual affiliation fee to North Eastern Harrier League. This entitles all club members to free participation in North East Harrier Cross Country League events.

BRC pays an annual affiliation fee to North East Track and Field League. This entitles club members to reduced entry fees at T & F meetings.

BRC pays an annual affiliation fee to North of England T & F, and Junior T & F Leagues. This entitles club members to free entry to events in these leagues.

BRC organises a Grand Prix within the club and provides awards. There is no entry fee, but participating members must pay race entry fees to the nominated races in the Grand Prix.

It should be remembered that the divisions are arranged to give everyone a fair opportunity to win and that the club pays for all of the trophies at considerable expense and bears any financial loss on Presentation Evening. It was also noted that trophies are not available for all of the team-entered events.

BRC pays team entry fees to various relay events and cross country events. This entitles participating team members free entry to these events.

This is consistent with how other Clubs work

.

The only exception to this are the teams entered for the North Shields Poly Grand Prix, which is not a club entered team, but a collection of individuals entering their own teams.

It is important to stress that anyone within the club can partake in cross countries, athletics events, team relays and the only cost incurred is the expense of getting there.

Some Club members enter events as individuals and still represent their clubs. For example the

Veteran Athletics Association North East of England (VAANEE)

track league and championships. They pay their own entry fee and also pay an annual fee to join VAANEE. Members who have recently participated include Helen Morris, Ian Singer, Kevin Freeman and John Mallon.

It was agreed that it would be fantastic if the club could afford to pay for entry fees to all events, but club's funds would soon be depleted if this happened.
The meeting closed at 10.01 p.m.                      Date of next meeting – Monday 21st September 2009
Kevin A Freeman                                                              Ralph Dickinson
Chairman                                                                                  Secretary
Proposed         Craig Birch                                                Seconded        Helen Morris