RUNNING
COMMENTS
Oct'10
       <![if !vml]>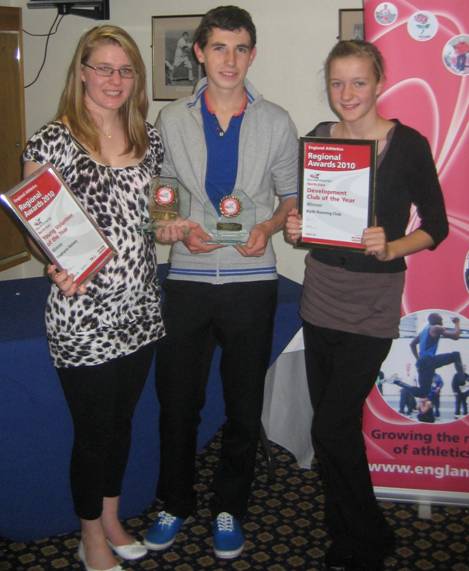 <![endif]>
Congratulations
Yet more success for Blyth Running Club and one of its Junior members. At the recent England Athletics Awards Ceremony held at the Riverside County Cricket Club, Steff Ramsay won the Young Volunteer of the Year Award for the North East Region.  Blyth were also awarded the trophy for "The Development Club Of The Year". Steff now goes onto represent the Region in the National awards at Birmingham on Saturday 30th October and here's hoping she wins!
Pictured is Steff with her trophy, certificate and bottle of champagne, while Scott and Charlotte have the Club trophy and certificate (if only we had somewhere to display them!)
North East Cross Country Harrier League 2010/11:
Juniors: The format has changed slightly this year with the introduction of an Under 11's race, which will start at 12:15. There will be one race, boys and girls will run together and there will be no handicapping.                                                                                                                                  The Under 13's will be next race at 12:30, followed by Under 15's. There are two packs, Slow and Fast. Anyone running in their first Harrier League should start in the slow pack. Depending on number of entries, anybody finishing in the first six will be promoted into the next pack. Depending on the distance (normally about 2K), the slow pack will start off 50 - 90 seconds before the fast pack. Boys race will be first followed by the girls race.
Senior Men: Races are generally between 5.5 and 6 miles, and start at approx 1:15pm. There are
three packs, Fast, Medium and Slow. Anyone running in their first Harrier League race will start in
the slow pack. Finishing in the first 30 in any league race will result in you moving up to the medium
 pack for the rest of the season and the whole of the following season, and you will start two and a half minutes after the slow pack. Running from the medium pack and finishing in the top 20 results in you moving up to the fast pack for the rest of the season, and the whole of the following season, starting 5 minutes after the slow pack. The first 6 Blyth members to finish the race, irrespective of which pack they started in, will count for the team.
Under 17 men; There are two packs, slow and fast
Senior/U17/U20 Women: Races are normally around 3 or 4 miles. Change of format for the Ladies. (I think) the first race of the season will have fast & slow packs as per last year, slow pack finishers in the top twenty will be promoted to the medium pack for the second race. Subsequent races, medium pack finishers in the top ten will be promoted to the fast pack. The first 3 Blyth members to finish the race, irrespective of which pack they started in, will count for the team
The race timetable is as follows:-
12.15 - Combined Boys & Girls under 11
12.30 - Boys under 13
12.35 - Girls under 13
12.50 - Boys under 15
12.55 - Girls under 15
13.15 - Senior Men
14.00 - Junior men under 17
14.30 - Senior Women & Under 17/20 Women
                keep your number for each race.
The dates for this year's Harrier League are
| | | | | |
| --- | --- | --- | --- | --- |
| Sat | 23rd | October | 2010 | Cramlington |
| Sat    | 30th | October | 2010 | Farringdon |
| Sat | 27th | November | 2010 | Blaydon** |
| Sat | 8th | January | 2011 | Town Moor |
| Sat | 26th | February | 2011 | Wrekenton |
| Sat | 26th | March | 2011 | Prudhoe |
Sherman Cup will take place on Saturday 12th March 2011 at Temple Park, South Shields
Blyth as a club has been taking part for many years and is doing so again this year. There are races for all junior age groups as well as senior men and women. As for taking part – the more the merrier, there are no entry fees as the club pays these.
Let Ralph know if you wish to be included.  They are good fun.
Harrier League – Saturday 23rd October
As previously mentioned Blyth are organizing this event and we need as many helpers as possible to ensure the success of the event.
It is possible to help/marshal and still compete in the race.
We also need help on Saturday morning constructing the course.
Anybody who can help please let Ralph know ASAP
North Eastern Cross Country Champs
The above takes place at Temple Park, South Shields on 11th December 2010.
Entries need to be in by 12th November.
The Club pays for these entries so don't panic about the cost BUT this year the cost has increased so if you say you want to run and then don't turn up, we may ask you for the entry money!!!!!!!
Anybody interested let Ralph know ASAP, any Juniors let Keith know.
Autumn Relays
The Juniors held their relays first on the Monday night and as usual some of the teams had to be reshuffled due to children being grounded by parents. With 12 full teams, the first runners were set off to complete the one mile course, and Jordan Wright was the first runner back and passed onto Calum Storey who was never passed and he gave Robert Breeze a healthy lead which he maintained all the way to the finish. The fastest boy was Jake Jansen, while Charlotte Ramsay was the fastest girl.
Two days later and the Seniors held their Relays around a course of 2.4 miles. Unlike the Juniors, none of the Seniors were grounded and possibly for the first time everybody turned up and there were no alterations to the teams. Joe Frazer was the first leg 1 runner back, with Helen Bruce in 4th position passing onto Dale Smith. Dale steadily worked his way through the field to pass a lead onto Graeme Stuart, who managed to hold onto the lead to be part of the winning team for the second year running. Gary Jones was the fastest on the night, while Heather Christopher was the fastest lady. Steve Gillespie continued his amazing record of having competed in all the 24 events. <![if !vml]>

<![endif]>    

Winter Series  2010/2011
The dates for the 2010/11 Winter Series are as below. Please let Ralph or Keith know if you wish to take part and if you are in a team.
<![if !supportLists]>1. <![endif]>Wed 3rd November
<![if !supportLists]>2. <![endif]>Wed 1st December
<![if !supportLists]>3. <![endif]>Wed 29th December
<![if !supportLists]>4. <![endif]>Wed 5th January
<![if !supportLists]>5. <![endif]>Wed 2nd February
<![if !supportLists]>6. <![endif]>Wed 2nd March
<![if !supportLists]>7. <![endif]>Wed 6th April
All races start 7:15 prompt in Blyth Riverside Business Park
The Winter Series is a series of seven 2.5 mile handicap races for members of Blyth Running Club only, and is the winter version of the Summer Cup. The main event is for individuals, with the overall winner being decided on their best 5 results. There is also a team event in order to provide a bit more competition. The course starts and finishes in Blyth Riverside Business Park and follows an out and back route through the business park. The handicapping system allows all ages from the Club to compete and so seniors and juniors can both take part, with everyone having an equal chance of victory. Competition is fierce as everyone strives to be first back in order to obtain a coveted 'Yellow Ganzie', which is awarded to the winner of each race.
The very first Winter Series was run in 1988/89 and the average number of runners in each race was about 20. The very first race was won by Stevie Gillespie, while the first Series winner was Kenn Gibson. The following all took part in the first series and hope to do this years as well:
                                Martin Gaughan
                                Steve Gillespie
                                 Dave Cox
                                 Joe Frazer
                                  Rob Hall
Juniors need parent's permission and minimum age is 11
Social
The Social Committee have arranged a Quiz night for Blyth Running Club members and their family/friends. This is in conjunction with the Autumn Relay and Summer Cup Presentations.
A poster with all the details is displayed on the club notice board inside the Sports Centre.
                                          Main Details:  
Presentation for Autumn Relay and Summer Cup @8.15m, at the Top House, Blyth.
                              Wednesday 27th October 2010
                               Quiz -  follows after the presentation
A reminder that the Christmas Disco takes place on Saturday 11th December at the Sea Horse Public House. (Further details will follow)
COMMITTEE MEETING
Minutes of meeting held 4th October 2010
Apologies: John Mallon, Alison Lowes, & Keith Willshire
The meeting commenced at 8:39 p.m.
Minutes of meeting held 6th September were read and approved. This was proposed by Mal Darbyshire and seconded by Iain Singer.
Matters Arising
BRC welcome Pack – an amended version was handed out at the Northumberland Athletics Network launch day at Concordia on Saturday 2nd October. The leaflet was passed around the committee and it was agreed to run with this for the time being. Sufficient supplies need to be with appropriate members for training evenings to hand out to prospective new members. One copy will be laminated and placed on the Notice Board.
Committee Vacancy – Ralph to circulate the committee vacancy to all members.
T & F Party night. Still waiting for details from Wallsend Harriers, who have some internal problems at the moment.
Club Mark Accreditation – Ralph has emailed John Stacey asking for assistance with completing the new document.
Trophy Cabinet – Kevin had contacted the Sports Centre and received a reply that they are unable to commit to this request at the present time. .
Chairman's Report
October sees BRC organising one of our largest events of the year, the NEHL Cross Country Fixture 1 at East Cramlington on 23rd. I urge all members to fully support this spectacular event either by helping and/or running. This is another huge opportunity for BRC to stamp its authority on the NE athletics scene.
Before this we are holding our own junior and senior Autumn Relays on 11th and 13th respectively. Again I ask all members to fully support these two tremendous events by offering help to organisers or by competing.
Finally it was pleasing to see and witness the successful and exciting conclusion of the truncated Summer Cup 2010. Winners will be presented with their awards at a Quiz night due to be held on Wednesday 23rd October at the Top House pub. Please support the social committee by attending this event. Thank you.
Secretary's Report
Ralph reported that we had received the following correspondence:
Letter from English Cross Country Association enclosing Handbook 2010 – 2011 and advertising National Cross Country Relays at Mansfield on Saturday 6th November.
Minutes from NEHL EGM held 9th August – 2 proposals were put forward and agreed upon.
Proposal 1 is for the introduction of a medium pack in the ladies race. The first race in the new season has fast and slow runners as per last year. Slow pack finishers in the top 20 will be promoted to the medium pack for the second race. At the third race, medium pack finishers in the top 10 will be promoted to the fast pack.
Proposal 2 is for the introduction of an U11's race with the following provisos:

The athletes have to run in club colours
The athletes register on the day, but keep their number for the season (as per usual harrier league rules)
It is a mixed race, boys and girls run together
The distance of the course is no more than 1 mile (ideally between 1000m and 1500m)
Individual clubs hosting harrier league fixtures decide if an U11 race is to take place at their venue, and if yes they provide a suitable course for U11's

Letter from South Tyneside Council advertising The Winter Grand Prix Series for Young Athletes and Minor Athletes at Monkton Stadium. Young Athletes (U13, U15, U17 & U20) on Thursday evenings starting at 7:00pm. Minor Athletes (U9, U10 & U11) on Sundays starting at 9:30am.
Letter from St John Ambulance outlining details of health and safety and first aid training courses. Sports First Aid Course is £90. Newcastle dates are Saturday 27th November 2010, Thursday 10th February 2011 and Thursday 12th May 2011.
Letter from Hexx advertising club kit. Passed to Mal for perusal.
Entry Forms for Age UK Leeds Abbey Dash 10k on Sunday 21st November 2010.
Entry Forms for 17th Hexhamshire Hobble Fell Race on Sunday 5th December 2010.
Letter received from Northumbria Police in response to notification of Blyth Valley 10k saying absolutely nothing.
Email from John Stacey advertising the National Club & Network Conference on 13th November 2010 at Leeds. I believe Keith may be attending.
Email advertising Road Running Seminar for Clubs & Race Organisers on Wednesday 1st December 2010 at Durham County Cricket Ground.
The Entry Form for combined Blyth/Wallsend team sent in for the 2011 North of England Track & Field League. The completed form has been sent off.
There have been two new members (junior) and no resignations.
Treasurer's Report
Dave reported that Club funds are still in a good state.
Men's Captain Report
Iain reported the following;
The first Cross Country of the season took place at Farrington.

 

The men had one team of seniors and one of veterans for this one lap relay event.
The VAANE 5 km championships took place at Water gate Country Park, where we had club representation.
The first Wallington 10 km race also had a good club turnout.
The Park Run series of 5 km races every Saturday continues to attract entrants.
The summer cup is concluded, thanks to all marshals and helpers without whom it wouldn't be possible to hold.

 

Overall winner was Simon Lemin.

 

Andrew Henderson setting the fastest time of the series in race 3.

 

A good overall set of performances by Ian Baxter in coming in second place overall.
Ian Baxter has also competed in the Loch Ness 10 km.
At Monkton Stadium a sprint relay competition was held.

 

Well done to all participants.
In the Grand Prix, Robbie Barclay, Steve Gillespie and Dave Bradley are currently leading Div 1, 2 and 3 respectively.
Ladies Captain Report
Helen reported the following;
<![if !supportLists]>Ø <![endif]>The final summer cup race was held on the 15th September and was won by Alison Lowes. Well done.
<![if !supportLists]>Ø <![endif]>Thanks to Suzie and Alison for representing the senior ladies at the open sprint relay meeting at Jarrow held on the 8th September. We finished 6th team.
<![if !supportLists]>Ø <![endif]>Sunderland open cross-country races took place on the 11th September. Helen Bruce and Julie Lemin both ran well to finish about halfway in the field. Emma Freeman and Rachelle Falloon also made up the ladies team. Well done.
<![if !supportLists]>Ø <![endif]>There has been a good response from ladies wishing to do the harrier league this season and we start with our own fixture on the 23rd October. Hopefully there will be a good representation from the girls.
<![if !supportLists]>Ø <![endif]>Well done to those who ran in the Great North Run on the 19th September.
<![if !supportLists]>Ø <![endif]>I competed in the NEVAA 5k Open Track Championships at Monkton stadium on 22nd September and finished 2nd over 45 in 21.37.
<![if !supportLists]>Ø <![endif]>Well done to Phillippa Baxter who completed the loch ness marathon in 4hrs09mins on the 2nd October and for her efforts in raising money for "just giving".
<![if !supportLists]>Ø <![endif]>All ladies are welcome at NSP sprint track sessions on a Sunday morning.
Juniors
Keith was absent for the evening to attend the England Athletics North East Regional Awards Evening at Riverside County Cricket Ground in Chester-Le-Street. He was able to report from the venue the following successes; Blyth RC won Development Club of the Year and Stephanie Ramsey won Young Volunteer of the Year.
Keith had also forwarded his report for the meeting as follows.
Training - Numbers increasing on Monday night sessions and Wednesday Indoor sessions.
Steve Walker & Dave Bradley are more involved on Mondays
Junior Relays - Monday 11th October, Trading Estate. Help required
Grant - Received grant of £1200. Money Spent on Indoor Equipment and 60 reflective vests with Blyth Running Club on back
Coal-Field Regeneration Trust - CRT have been in contact re: Juniors organising "an Olympic" type event. Meeting planned for Tuesday 5th October.
Holidays - Definitely absent Monday 25th October and Monday 22nd November. Help required.
Sprint Relays - Letter sent to NECAA praising the event
Grand Prix
Mal reported that everything was running smoothly with one GP event to go. The first event for 2011 will be the Snake Lane 10 mile on Sunday 27th February 2011. 40 places have been secured for the event.
Social
Aynsley reported that the Paint Ball event had been a great success with 17 people taking part. It is hoped to arrange another event next year and more advance notice should hopefully encourage greater participation. A quiz night is being organised for the Top House on Wednesday 27th October. The social committee is looking to organise a 10 Pin Bowling event for some time in November, and a reminder that the Christmas Disco is on Saturday 11th December at the Sea Horse.
AOB:
Track & Field Records – It was agreed that it may be possible for Craig to keep these updated even though he was at university. Ralph will liaise with Craig.
Club Mark Accreditation - It was agreed that we would wait for reply form John Stacey before progressing.
North East Harrier League Fixture – As reported previously most things were in hand. We have now added an U11 event to the programme. This will be a mixed race of 1150m. The next task is to organise the marshals and other helpers for the event. Ralph will pass all necessary information to the league (Alan Elder, Simon Smith & Vicky Thompson) for forwarding to all clubs. This will include a statement on the proposed one-way system and the need to car share.
Summer Cup – The format for the Summer Cup will be reviewed. This will be discussed at the next meeting.
Year End Accounts – Dave Kitching confirmed that the year-end would be 31st October 2010. He would like all bills and receipts forwarded to him by then. This will include recovery of all race fees and kit sales etc.
Sands Race – Dave Kitching has agreed to take the entries for this race. He has also organised on-line entries.
Coaching – Based on responses received Keith had put together a list of coaches and their details and forwarded it to UKA for their Database. Keith had been disappointed by the lack of responses received to the email dated 28th August 2010 asking for this information. He wished to remind members that when they became coaches they agreed to available to help as per Tony Blair Sports Foundation financial agreement. The response to the request to assist on the Network Launch Day had been almost nonexistent.
Notice Board – Keith had taken time to tidy up the Notice Board. Iain Singer agreed to ensure that it is kept updated and tidy.
The Jogging Route
Ralph had been driving 16 hours straight and was still at least six hours away from his holiday destination. It was almost eight o'clock in the morning and he was very tired.
After dozing off and nearly crashing into a telephone pole, he decided to pull onto a side road and rest.
Ralph turned off the car and closed his eyes ... drifting off to sleep, precious sleep ...
When an old man in bright blue lycra running gear knocked on his window, scaring him half to death.
"Sorry to wake you," he huffed, jogging in place. "But can you tell me what time it is?"
Ralph glanced at his watch. "8:15," he said through the glass.
The old man thanked him, then left.
"Just my luck," he muttered. "I'm parked on someone's running route."
With a sigh, he settled back into his seat and tried to fall asleep.
Two female joggers in their thirties knocked on his window. If he hadn't been dead tired, he would have found them cute. Now, they were just annoying.
"Hi," the blond jogger said.
"Do you have the time?" her brown-haired friend asked.
Ralph sighed and looked at his watch. "8:19," he said.
"Thanks," they said, then jogged off.
Ralph looked down the road and saw more runners coming his way. Irritated, he retrieved a pen from the glove box and scrawled 'I DO NOT KNOW THE TIME' on the back of a magazine. He put the hastily constructed sign in the window and settled back to sleep.
A thin, pale jogger knocked on the window just as he started dozing off.
Ralph pointed at the sign and shouted, "Can't you read?"
To which he replied, "Sure I can. I just wanted to let you know: It's 8:27."
FUTURE RACES
(This is not an exhaustive list)
October 2010

NEHL: Cramlington

Sat, 23 October 2010

NEHL: Sunderland

Sat, 30 October 2010

November 2010

Blackhill Bounders Fruit bowl 7 - Gibside

Sun, 7 November 2010

Heaton Memorial 10K

Sun, 14 November 2010

Brampton to Carlisle 10M RR

Sat, 20 November 2010

Town Moor Marathon

Sun, 21 November 2010

NEHL: Blaydon

Sat, 27 November 2010

December 2010

Norman Woodcock (Prov)

Sat, 4 December 2010

Blyth Sands

Sun 5 December 2010

NECAA XC Champs (Prov) - South Shields

Sat, 11 December 2010

January 2011

NEHL: Town Moor

Sat, 8 January 2011

Northern XC Champs - Sunderland

Sat, 22 January 2011

Durham Cathedral XC Relays

Sun 23 January 2011
SANDS RACE – SUNDAY 5th DECEMBER
This years Sands race will start and finish on the beach outside the Dave Stephens Building at the Links Car Park.
Unlike the Summer Cup and Winter Series the handicaps are set in stone, so there's not much point in whinging about them – you can only alter your handicap by growing old or having a sex change.
Course: 5 miles from Blyth Promenade to Blyth Pier and back along the
Shoreline to Seaton Sluice Harbour and then return along beach
Back to Promenade
Unique staggered start: Ladies  O/55   13 Minutes start
Ladies O/50    12 minutes
Ladies  O/45 Men O/70   11 Minutes
Girls U/18 Ladies  O/40  Men O/65     9 Minutes
Men O/60  Ladies O/35      7 Minutes
Men O/55  Ladies O/18      5 Minutes
Men O/50      4 Minutes
Men O/45      3 Minutes
Boys U/18     Men O/40             2 Minutes
ENTRIES WILL BE TAKEN AT THE SPORTS CENTRE ON CLUB NIGHTS, ON DAY
AT THE DAVE STEPHENS BUILDING
IT WOULD BE EXTREMELY USEFUL IF ALL BLYTH RUNNERS ENTERED BEFORE
THE DAY TO CUT DOWN ON THE AMOUNT OF TIME IT TAKES TO PROCESS
THE ENTRIES
VOLUNTEERS WANTED:  To Marshall
Make Tea (and friends at the finish)
Take Late Entries
Car-Parking
Mrs Bruce, (a school teacher) asked one of her pupils  "John, will you please conjugate* the verb 'to go' for the class?"
 The child began, "I go... um... you go... ehmm... he goes..."
"How about a little faster?" asks Bruce
 And he replies  "Sure! I run, you run, she runs..."
** If you need to know what conjugate means ask Helen
Officials
The next officials course is on Sunday November 21stat Gateshead Stadium. If anybody is interested please let Ralph know ASAP.
Coaching
England Athletics have now restructured there coaching pathway (and increased the prices), details are on the Club notice-board if anybody is interested in becoming a coach.
Juniors
Heaton Town Moor Memorial Races 14th  November 2010
Event A: Under 11 boys/girls (minimum age 9 on 14/11/10) - Approx 1km. Starts 9:50am.
Event B: Under 13 boys/girls (minimum age 11 on 14/11/2010) - 3 km. Starts 10:00am.
Event C: Under 15 boys/girls - 3 km. Starts 10:15am.
Event D: Under 17 men/women and Under 20 Junior men/women - 5 km. Starts 10:30am.
Club pays Junior entries, but if you enter and do not run then you have to pay money back to club.
                                               See Keith for further details
Junior Christmas Party
This years Christmas party will be on Monday 20th December and will probably be Ice Skating at Whitley Bay. Further details to follow.
Christmas Indoor Athletics
Last Christmas we held a mini indoor athletics competition during the school holidays. If there is enough interest then I will try and book the hall again.
The tri-athlete and the frog.
A man was out jogging in the forest one day when a frog called out to him and said, "If you kiss me I'll turn into a beautiful princess." He bent over, picked up the frog, and put it in his pocket. The frog spoke up again and said, "If you kiss me and turn me back into a beautiful princess, I will tell everyone how smart and brave you are and how you are my hero." The man took the frog out of his pocket, smiled at it, and returned it to his pocket. The frog spoke up again and said, "If you kiss me and turn me back into a beautiful princess, I'll stay with you for a year and do ANYTHING you want." Again the man took the frog out of his pocket, smiled at it, and put it back into his pocket. Finally the frog asked, "What's the matter? I've told you I'm a beautiful princess, that I'll stay with you for a year and do anything you want. Why won't you kiss me?" The man replied, "Look, I'm a Tri-athlete. I don't have time for a girlfriend, but a talking frog is cool."
Junior Autumn Relay Results