RUNNING
COMMENTS
Mar'11
Web Site update
This is from Steve Walker:
The new web site has now been up and running for just over a year and in that time has received almost 15,000 hits, an average of 262 per week.  Many thanks to all those who keep using the site.
I try to keep the site as up to date as possible, and I also hope to gradually improve some of the pages, especially the Results pages, to a standard format.
Now, two requests.
Firstly, the web site is for the benefit of you, the members of the running club, so if anyone has any thoughts, ideas on how it could be improved, new sections etc. then please let me know.
Secondly, if anybody does a race, a training run or something completely different that would be of interest to others, then please write a short report and send it to me for inclusion on the site, at WalkerSte@aol.com
History of Blyth Running Club 1982  Part Three:  Teamwork.
By Easter 1982 the fifteen joggers had become runners, with aspirations.
In my 38th year I had discovered that I was quite a good runner. The lads at the club were much younger but I always managed to be first back on those very competitive Monday and Wednesday club nights. I had even developed a sprint finish which I didn't know I possessed! In the rugby club bar someone brought in an entry form for the 8.5 mile Blyth Valley Fun Run as it was known then. We decided that we would put in a team from Blyth and target the Sunday 9th April race from Concordia to the Blyth Sport's Centre. A problem arose, what do we call the team? We were a group of friends now but we were certainly not an organisation. It was around February 1982 that we held a meeting at Peter Hawkes' house one Sunday evening in Cypress Gardens to form a committee. There was a suggestion that we should be known as Blyth Joggers (from the ladies) but I felt we were a bit more competitive in our approach and I put forward the argument that since we were not interested in athletics (track and field) we should call ourselves the all-embracing Blyth Running Club. Everyone agreed and they made me secretary. We were now an official club but not attached to the AAA which was the very strictly regulated Amateur Athletics Association – we were 'unattached' and proudly independent. We adopted the Spartans' colours of green and white although our first vests were green cotton singlets with 16 ironed on letters at 5p each.
My diary for that time shows that in the 12 weeks prior to our first club race I had averaged 25 miles per week which was mainly the three club sessions which although they had no training pattern, were always pretty quick and challenging. It was mystifying to visitors from other clubs that we ran so hard in training. They maintained that we did our 'best racing' on club nights! We must have done something right because when the Blyth Valley Fun Run took place we did extremely well and even won the team prize, beating Morpeth Harriers. The results had me in 13th place with Les White 15th, Dave Madgwick 18th and Mick Dodds 24th.  Not bad for our first competition as Blyth Running Club. In that field was Dave Cox who can claim, without question, to be the longest serving runner who was at the club before its formation. I can no longer run (two hip replacements and angina intervened) but Dave has my utmost admiration because he is still out there doing amazing, consistent runs. My time at Blyth was 49.57 which converted to an average of 5.52 miling. I was astonished as I would never have contemplated ever running 'sub-sixes'. There were 437 starters that day and my 11-year-old son finished 117th in the BRC colours [see pictures]. Naturally this stirring result spurred the lads onto greater achievements.
We were up and running!
Captions:
        <![if !vml]>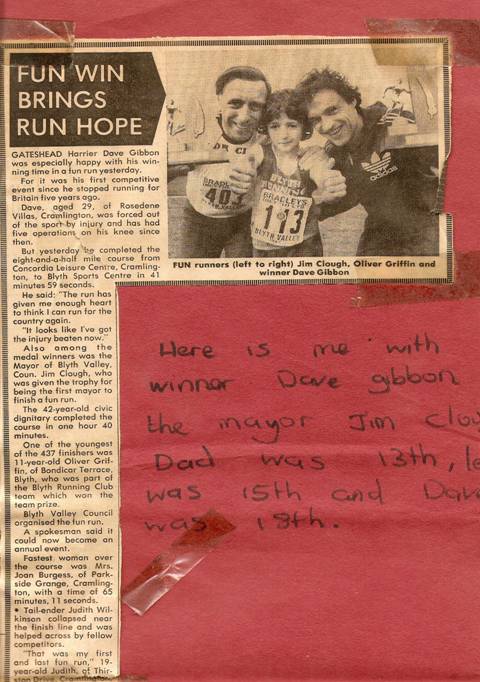 <![endif]>
1] Dave Gibbon of Gateshead Harriers was a contemporary and rival of Olympic silver medallist Mike McLeod and I saw Dave win a world-class 10K race at Gateshead Stadium. Oliver is now 40 years of age, lives in London and is a television editor on programmes such as 'Skins' and 'Gavin and Stacey'.
<![if !vml]>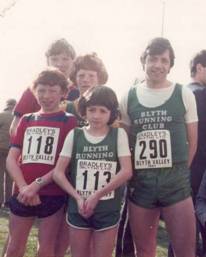 <![endif]>
2] Andy Griffin with Oliver. Andy maintains to this day that he could have improved his time if he hadn't worn such tight shorts!
Northern Cross Country Championships, Sunderland
Just 3 weeks after the North Eastern Championships, Sunderland Harriers hosted the North of England Cross Country Championships at Herrington Park, Penshaw. It was a perfect venue for such a top quality event as the course had been used for the 2007 National Cross Country Championships. After 6 years of the event being run 'down south' (Manchester, Leeds, Blackburn, Liverpool etc) a return to the North East was long overdue.
You are guaranteed several things at the 'Northerns' – top class athletes, large enthusiastic crowds (for 2 laps anyway) and plenty of mud! , although the mud didn't seem to hamper the front two with Tom Lancashire having a storming last lap to overtake Andy Vernon (I know this because they were going hammer and tongs as they lapped me)
The organisers had been busy over the previous days setting out the course and there was plenty of room for the Club tents near the start and finish areas. The actual finish was an uphill stretch of about 100 yards – not ideal after you have ploughed through the mud.
The races were well organised and marshalled and the starts are quite impressive to watch. In Championships, each club are allocated a 'pen', where you have to start the race.
The first race was the U15 boys race, with Chris Sheffer finishing in the top 100 and Joseph commenting "that they handed the winners prizes out as he was finishing the race" – but as Kevin Freeman told him, when they last held the Nationals there, he still had half a lap to go when he heard the announcer wish everybody a safe journey home!  In the U17 girls we only had Rebecca running, and it's fair to say she has had better days. Next up was the U13 girls with both Charlie and Alice running in their first championship and enjoying the event. Again in the U17 men we only had the one runner with Scott P having a steady run. In the U15 girls race, Charlotte just missed out on finishing in the top 100, while Craig was next away in the Junior Mens and had a good, strong run.  The Junior Womens race had the lowest number of entries and only Emma was running for Blyth, while James Young and Jordan Wright both ran strongly in the U13 boys. In the penultimate race of the day, Blyth had six ladies running with Heather Christopher the first back for Blyth in 105th position and finishing 16th team.  The men had 9 runners with Robbie Barkley back first for Blyth, finishing inside the top 200
National Cross Country Championships, Alton Towers
Sadly Alton Towers in Staffordshire proved to be no fairground attraction for athletes taking part in the English National Cross Country Championships on Saturday 19th February. 
<![if !vml]>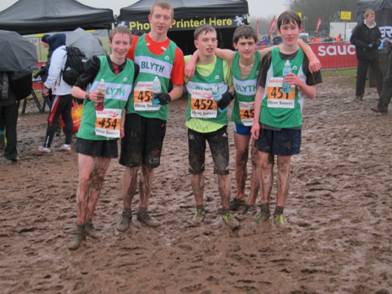 <![endif]>A heavy early morning snowfall, plus an incessant rainstorm made conditions very difficult underfoot,and in some places very near impossible. The National Cross Country at Alton Towers was turned into one big mud bath and almost threatened the continuance of the meeting. It was a gruelling test of stamina for the runners. At one stage organisers came very close to considering abandonment, as following the first two events which had resulted in some accidents, caused a delay to proceedings. After further checks, officials decided to continue on slightly shorter courses, in order to try to complete the ten race programme, although Uttoxeter Races was cancelled less than 5 miles away.  But all this didn't deter the small band of runners from Blyth who had travelled down and stopped overnight.  We were one of the few clubs from the North East who managed to get full teams in the U15 and U17 boys. The Youth Hostel only had two showers, so it took a long time for everyone to get cleaned later on. The next day we returned to the theme park, and the cross country course was just as we had left it at 16:30 the day before, and it was possible just to see how much mud there was.
The Nationals were last held in Alton Towers in 2008 and on the same course (only longer) Ralph and I both ran 15 minutes quicker, also in 2008 Ralph uttered those immortal words "Never Again" – this time on the journey home he was discussing doing the Nationals in 2012 at Parliament Hill, London
Keeping A Training Log
Most people who run regularly want to improve their finish times at racing events. But what makes some people faster than others? Becoming a better runner involves a lot of factors such as strength, weight, stamina, training and lifestyle. When people first start out as runners they usually don't concern themselves with how fast they can run, but rather how far. However, after a while runners usually want to increase their run time as well. To improve both your distance and time it's best to follow a training program and that is why keeping a running log can help you to achieve your goals.
If you are going to participate in any road races, especially the longer distances like a marathon, then a logbook is essential to aid you in planning and following your training schedule. It really helps to look back and see the improvements in your running. A running log is also necessary if you want see how you are progressing with regard to your goals.
A running log is a place where you record your runs. It could be a notebook, spreadsheet or even a weblog. The details included in the logbook are individual choices, but most people enter the date, place, distance, time and general feelings about the run. If you want to be more thorough you can also record details on weather and terrain. The running log will help you keep all the information about your runs in one place. The most important information about each run is the date, mileage and the amount of time the run took. Additional information like how the run felt and any pain you may have experienced will allow you to track your progress and keep track of running related injuries and when you are over stressing your body.
There are various benefits that you can gain from your training log. Some of these can be given below:
Setting goals: There is great power in a plan, even if you don't fulfil every aspect of it. A plan gives you something to reach for; however close you come is still more progress than if you are aiming for nothing. By making you aware of your progress as a runner, a logbook becomes the perfect tool for setting goals. You can project your past progress into the future and create your own training plan, which you can then tweak along the way.

Motivational tool: It is simply a fact that as we develop a plan, whether very precise with a marathon in mind, or more laid back, when we commit to a course of action we're more likely to follow through. When you start adding up all the kilometres you've run, you get a feeling of achievement which will help build your confidence as a runner.

Managing injuries: A logbook can also help you manage injuries and learn what recovery plan works best for you. By tracking the development of an injury from its beginning right through to healing, you may apply the same rehabilitation in the future, or alter it for a better result. A running log preserves the pattern of your running routines. By recording your mileage, your shoe mileage, etc. you can prevent injuries by making sure your runs do not exceed the 10% rule (i.e., you never exceed the previous week's total running by more than 10%).

Tool for evaluating tactics: Lacking a record of how you trained for a particular event or race, it becomes very difficult to make any decisions about how you might do it differently or better the next time. Keeping a record of what you did on the way to the actual event, gives you valuable data for making smart decisions the next time around.

Aids in being committed: Whether you are training for shorter distance events or a marathon, it's vital to work your training program in order to achieve your goals. Working your training runs into your daily schedule must be treated as a priority just like any other important commitment you make. Keeping a running log is a great way to stay on track with your training commitment.

Helps in thinking positive: It's important to think positive throughout your training especially if you are planning to do the longer distance events like a half or full marathon. If you want to be among the first runners in your age group you'll need to think positive. One of the best ways to remain positive in your thinking is to be prepared. By putting your training miles 'in the bank' so to speak it will help you think positive about achieving your running goals.

Your personal running history: Ultimately, a logbook helps you to learn about yourself as a runner and allows you to be in control of your running. You build a personal running history, which you can look back on and learn from. As you realise what training style brought the biggest rewards, you can plan for even more success based on your own empirical evidence.
What information should I put in a Running log?
You can use a running journal/running log to record virtually anything you find important about your run. You would usually, as a bare minimum, use it to record each of your runs or workouts. In your entries, you should definitely record distance, length of the run, where you ran (e.g. the actual route) and how you felt the run went. Apart from that you can also record whether it was a morning, afternoon or night run and which food you ate before or after your run. If you are a professional then you can also record your heart rate, altitude gained, pre-run and post-run stretches in your running journal/running log.
Accomplishing any assignment requires the use of good tools to get the best results. If you are serious about achieving better running times and doing longer distance events then you'll benefit from a good training program and using a running log to record your progress. It is advisable to keep an electronic record of your runs as you will have the runs logged forever, you can analyse your runs better and you can share your runs with others
Winter Series 2010/11
After six races the top of the individual competition has reversed yet again, with Dave Roberts on 57 points reclaiming first place from Ken Turnbull, who is 4 points behind on 61, closely followed by Tom Lemin on 65 and Joseph Dungworth on 68.  In fact the top of the table has closed up so much that any of the current top 9 could take first spot - all to play for in the last race on April 6th.
In the team competition "Charlie And The Giraffe" won race 6, with 3 finishers in the top 10 their total score was a meagre 36 points, the lowest team score in the competition so far.  "The Bradley Bunch" and "R n R" finished 2nd and 3rd with 55 and 66 points respectively.  "R n R's" 2nd place has catapulted them to the top of the team competition, overtaking long term leaders "Colin's Crew".  "R n R" have 477 points, "Colin's Crew" 494, and "Charlie And The Giraffe" are in third place with 534.
Full results on web-site
Grand Prix
Snake Lane 10M Pocklington
And so the Grand Prix season is upon us again.  The first race this year was again the Snake Lane 10 at Pocklington near York, with 34 members of the club taking part, an increase of 2 from last year.  In fine conditions with only a slight wind the race was won by Ricky Stevenson of New Marske Harriers in a course record time of 48:03.
First back for Blyth was Robbie Barkley in 37th position with a time of 1:00:16, followed by Sam Dodd in 1:02:52 for 59th place overall.  First home for the ladies was Heather Christopher, 12th lady and 162nd overall.  There were age group prizes for Heather, Suzie, Cath Young , Martin Gaughan and Rob Hall, who was making a long overdue return to racing.  The men's team finished 8th and the ladies a very respectable 4th.
Many thanks to the supporters who travelled down to cheer the runners on and to Mal for organising the bus.
The Blyth results and the Grand Prix tables can be found in the Grand Prix section of the web site.
Haweswater Half Marathon
Just one week after the long trip to Pocklington for the first race in the club's Grand Prix series, members of Blyth Running Club were again on their travels, this time 29 runners and their supporters took the slightly shorter journey for the second race in the series, the Haweswater Half marathon.  Starting and finishing in the small village of Bampton, a few miles from Shap, on the edge of the Lake District, the course is basically a hilly out and back affair from Bampton, along the side of Haweswater Reservoir to Mardale Head and back.  Eden Runners, the organisers of the race, were once again blessed with good sunny weather although there was a cooling headwind on the outward half of the course.
Robbie was again first back for Blyth in 20th overall with a time of 1:22:22, followed by two newer members, Michael Butters with 1:23:16 for 23rd place and Sam Dodd with 1:25:13 in 32nd.  First lady back for Blyth was Heather Christopher, 109th overall in 1:34:22 and some 6 minutes quicker than last year, with Susanne second back in 1:36:51.
At least three of Blyth's runners managed half marathon PB's, very impressive running on a course with over 1600ft of ascent and descent, Dave Bradley by 2 mins, Chris Stone by 4 mins and Peter Holmback by an incredible 7 mins; what a difference a week made to Chris and Peter.  Special mention to Rob Hall, whose time of 1:32:49 gave him first place in his age category.  Blyth's contingent of 29 runners was again the most from any one club taking part.
Big thanks to Robbie and Mal for driving the mini buses, which allowed the rest of us to re-hydrate afterwards in the local hostelry.
Royal Signals Relays
A big thank you and well done to all those who represented the club at the annual Royal Signals Relays, held at Hetton Lyons Country Park, Houghton-Le-Spring on Saturday 12th February.  Blyth managed to field 4 teams in total, two senior men's, one men's O50 vets and a senior women's, with a second women's team only having two runners.  All the first leg runners start off together and at the end of the two lap, approximately 2.25 mile course they pass on to their second leg runner and so on, men's teams have 6 runners and the women's 4. 
It was encouraging to see some of the U17 boys taking part, racing against the "big boys" for the first team in a big event.
Harrier League
With only one fixture left it seems almost certain that Blyth will once again be in Division Three of the Harrier League next year. 
Harrier League Race 5 – Blaydon
Penultimate race of the League and it combined the Sherman Cup as well. Conditions were really good for cross country running and Blyth managed to have a Mens team, although this time there was only one woman running seven men. Charlotte Ramsay was the first U15 girl home as the original winner was disqualified, while Chris Sheffer was disqualified for running from the wrong pack. 
The two Josephs both had good strong runs as they progressed into the fast pack for the next race with top ten finishes. Although the only Blyth woman, Susie had an excellent run as she finished top ten and also progressed into the medium pack – the only woman from Blyth in the medium pack.
As predicted it would appear that the men are relegated into the third division.
Harrier League Race 4 – Wrekenton
The 4th Start Fitness NE Harrier League X-C of the season took place at Wrekenton at Saturday 26th Feb.  The senior men's and women's teams were greatly reduced due to the club's first Grand Prix race of the year taking place the next day.  Well done to Ian, Iain, Dave, Ralph and Susanne who ran in both events - they must be mad! However, this dedication obviously didn't inspire the rest of Blyth as the men couldn't get six counters for the team
The star of the day was Scott Povey in the U17 men's event, coming home first and leading the team to first place as well.  Matthew Jackson also did extremely well in finishing second in the U15 boys race.
Harrier League Race 3 – Town Moor
A big well done to every athlete who braved the atrocious weather to represent the club at the Town Moor for the third in the season's Start Fitness Harrier League X-C meeting on Sunday 6th Feb.  In cold conditions with persistent rain and a strong wind there was a particularly good turnout from the male section of the club.
Also, many thanks to the supporters who turned out to cheer the runners on and to Ralph for putting up the tent, never has it been more welcome.
The U15 boys did fantastically well to be first team on the day, with Chris Sheffer and Mark Nicholson making the fast pack . In the U17's Chris Lillico was second and Calum Storey was promoted to the fast pack as well. Another runner promoted to the fast pack was Charley Hedley in the U13 girls. The senior women are now 14th (out of 29 teams) after the 3 events, but the senior men are next to bottom in division 2, although the 2 teams above them only have 1 point less.
Kit Prices
FROM 1st JANUARY 2011
startfitness       BOYS VEST                                      £ 9 . 50
startfitness       MENS VEST                                      £ 9 . 50
startfitness       WOMENS VEST                               £ 9 . 50
See Mal Darbyshire to order and for other items..
Volunteers/helpers required
Blyth Valley 10k – "Spirit Of The Staithes"
This years Blyth Valley 10K will take place on Sunday 3rd  April at 10:00 and this year is being sponsored by TRANSPED
As usual we will require a large number of volunteers to ensure that the race goes off smoothly. We will probably require marshals, people to take late entries, man the drinks station etc etc
Anybody who can help, please let Ralph Know.
Juniors
Young Athletes League
Once again we will be competing in the Young Athletes League as a composite team with Alnwick Harriers.
The teams in this years league are Harrogate; Birtley; Blaydon; Chester-Le-Street; Alnwick & Blyth; New Marske; Barnsley; Morpeth; Jarrow
The dates are: Sunday May 8th (Jarrow), Sunday May 22nd (Jarrow), Sunday June5th (Jarrow) ,  with the final date to be confirmed
Good Friday Races
There are races in all age categories, and are at Newburn Riverside Park, Bells Close, Lemington. Cost of entry is £2.00 per person (refund if you run). See Keith for more details.
Wallsend Junior Race
Wallsend Harriers are organising a Junior Run on Sunday April 17th. Ages are 10-15, cost is 50p. Rising Sun Country Park, Benton start 10:00
Alnwick Junior Run
Alnwick have a Junior Fun Run (8yrs – 16yrs) on Tuesday 10th May, start 18:30, cost £4.00 (T-shirt).
Well Dones
Mattie Jackson, Scott Povey, Jess Kelly all selected to represent Northumberland at English Schools Cross Country, Ellis Hetherington and Charlotte Ramsay reserves
Emma Freeman selected to represent NECAA  for Inter Counties (first woman from Blyth?)
Chris Lillico second at Town Moor Harrier League; Mattie Jackson second at Wrekenton, Scott Povey First,
Junior Handicap
The probable date for this will be Monday 18th April. Usual 2 mile course.
Arriva Sportshall Regional Finals
Several of the Juniors represented Northumberland in the Regional U13 and U15  Finals at the Seaburn Centre, Sunderland
Coaching Sessions
Several of the Juniors attended a Pole Vault session before the Harrier League at Blaydon and seemed to enjoy it. There are regular sessions on at Gateshead Stadium on Tuesday and Thursday nights.
The High Jumping sessions have restarted again at Jarrow on Friday nights
If anybody is interested in the above then see Keith for further info.
What's what in track and field.
There are many different types of competition that members can get involved at various levels depending on ability and need. This is a guide to help you decide what you could or should be doing.
Leagues - There are two leagues in which the club fully participates, i.e. the club affiliates to these leagues and pays the fees (for all other meetings athletes are responsible for their own entry fees)- the YAL (Young Athletes League) for u13, u15 u17 boys and girls, and the North of England T&F League for u17, seniors and vets. These provide a reasonable standard of club athletics - each league has a fixed format for each fixture. There is a mid-week league in which athletes of all ages can compete, although the club does not treat them as a team competition - the NEAL (North East Athletics League) is held on Wednesday evenings at Gateshead and Jarrow. Track events are run as graded races i.e. athletes of similar ability run against each other - which promotes better performances. For u17 and u20 athletes looking for specific events (e.g. 2000m s/c) and/or a good standard of age group competition there is the NJAL (National Junior Athletics League) - the club is not a member of the NJAL, but athletes can access the NJAL by joining a NJAL club 2nd claim (e.g. Gateshead).
Championships - the first level is North East Counties held usually at Gateshead early in May. It would perhaps be better if it was held in July, as it would then be a target for the season for the middle 50% of the ability range. Includes events for all age groups. The second level is Northern Athletics regional championships, with separate two day championships for u15/u17 and u20/Sen - this is quite a high standard for top 20% The top tier is National Championships which have qualifying standards. The more able school age athletes will also be aiming for the English Schools Championships for which there are qualifying standards.
Open Meetings - these are generally held early and late season - each meeting offers variety of events. The early season meetings often have "mid" distance track events e.g. 300m, 600m & 1000m 1500mSC as preparation for specialist events
British Milers Club events - These are held at various levels locally (at Jarrow) and regionally and nationally at distances of 800m+ The races are both paced and graded - and are where most middle distance runners set PB's.
Veterans - whilst veterans can and do compete as seniors, there are league events and championships for those aged 35+ where there is a good standard of competition without the fear of being blown off the track by "young whizz kids"!
Fixtures – at the moment most of the dates are available on the website,
The Senior Team had has formed a composite team with Wallsend and will be hoping to consolidate on their promotion or hopefully gain another promotion in the Northern of England Track and Field League. The new season is starting soon and we would like to build on the many great performances of last year. So we need male and female athletes of any standard to compete. You can be aged from 15yrs to vet. The events are; steeple chase, 5K (male), 3K (female), 1500m, 800m, 400m, 200m, 100, 100mH, 400mH, long jump, triple jump, high jump, pole vault, shot putt, discus, hammer, javelin. You can compete in more than one event if you wish. The meet is an enjoyable day, so why not come along and give it a try. Teams in the league are: City of York B, Morpeth Harriers & AC, New Marske Harriers & AC, Scarborough AC and Skyrac AC 
 Dates are Saturday 5th May, Saturday 4th June, Sunday 3rd July and Sunday 14th August. See Ralph for more details. 
Track Season
The fixtures for the North Eastern Track League track season are printed below. Any Junior who wants to run in the track league see Keith  for further information as the races are different at every  event (i.e. one meeting will have an 800m race while the next may have a 1500M race). Normally athletes have to pay their own entry fees, although the Club may pay for any relay races. These events are not just for Juniors, if any Seniors are interested see Keith for details.
Wednesday Evening 18:30-21:30
27th April        Monkton Stadium
25th May         Monkton Stadium
22nd June        Monkton Stadium
13th  July        Gateshead Stadium
27th   July       Gateshead Stadium
10th  August   Gateshead Stadium
YOUNG ATHLETES MEETINGS 2011
(IN CONJUNCTION WITH Quadkids)
Sunday May 1st           Sunday  May 22nd            Sunday June 12th           Sunday July 10th        Sunday August 7th 
all meetings 9.30 – 12.30 sharp        [registration from 8.45 a.m.]
Programme of events:
TIME              School Year 6             School Year 5             School year 4              School year 3
                        (Under 12 years*)       (Under 11 years*)       (Under 10 years*)       (Under 9 years*)
* all ages are as at 31st August 2010
8.45 – 9.30      REGISTRATION, RECEIPT OF NUMBERS,  ETC
9.30                    75m sprint                Running Long Jump         400m           Plastic Howler throw
10.00               Plastic Howler throw      75m sprint               Standing Long Jump        400m
10.30                  600m                    Plastic Howler throw      50m sprint                Standing Long Jump
11.00               Running Long Jump       600m                     Plastic Howler throw          50m sprint
11.30               FINALS OF 75m and 50m Sprint  EVENTS – year 6, year 5, year 4, year 3
N.B. a) In field events, all competitors will have the same number of attempts, but the number of attempts allowed will depend on how many can be fitted into the time allocation (which must be adhered to).
b) On the track, the 50m heats for years 4 and 3 will take place before the 600m distance races for years 6 and 5 (10.30, 11.00)
Entry Fees- closing date 1 week in advance of each meet: £2.00 per event, or £6.00 for all events on one day or £25.00 for every event in the series. Entry fees on the day: £2.50 each event, £8.00 for all four events.
Entries will be acknowledged by e-mail (where an e-mail address is included on the entry form)
Prizes: Medals will be awarded to the first three each event.
Quadkids Grand Prix:  Points for performance will be awarded to all competitors in each event, and trophies will be awarded to the six competitors in each age group (boys & girls) at the conclusion of the series.   
To ensure smooth running of the event (especially the field events) volunteers to act as helpers on the day will be welcomed, please contact christopher.betts@btinternet.com
Results: Will be posted on the club website at www.Gateshead-Harriers.co.uk as soon as possible after the event and also to entrants via e-mail.
COMMITTEE MEETING
Minutes of meeting held 7th February 2011
Apologies: John Mallon, Dave Kitching, Alison Lowes and Iain Singer
The meeting commenced at 8:36 p.m.
Minutes of meeting held 10th January 2011 were read and approved. This was proposed by Aynsley Herron and seconded by Mal Darbyshire.
Matters Arising
Track & Field League– a meeting was held with Martin Telford of Wallsend to discuss the 2011 campaign.
Winter Series – a new vote was undertaken after the latest race and the decision was to remain with the new course.
Chairman's Report
Since the last committee meeting the club held its AGM. Attendance was disappointing- nevertheless for those present, a respectful, democratic and seamless process was witnessed as all 3 officers and 8 committee members were returned, unopposed, charged with the management, governance and development of BRC for 2011.
Any member who would like to be part of the team should note there remains 1 vacancy on the committee and to contact Ralph for further details.
For those who still have not paid their membership fees for 2011, I urge you to do so ASAP.
Finally, it was wonderful to see the senior men and women return teams (the women for the first time ever in club history) in the Northern Cross Country Championships held last month in Sunderland. Well done. It would be good to keep this momentum going by turning out competitive teams in the forthcoming North East Road Relay Championships. Thank you.
Secretary's Report
Ralph reported that we had received the following correspondence:
Confirmation of entries to Nationals at Alton Towers.
Parking Pass for Alton Towers
Entry forms for Middlesbrough 5k Road Race
Entry forms for Sand Dancer 10k at South Shields
Instruction form Signals Relays people about alternative parking due to limited parking at Race HQ
Notification of Open Indoor Pentathlon at Gateshead Stadium
3 number Small Bus Permits under Section 19 of the Transport Act 1986. (These are required to insert in any minibus we hire to transport Club members to different venues.)
There have been no new members in January and no resignation. So far only a third of members had renewed their membership. I will send out a reminder to say that membership fees are due.
Treasurer's Report
Ralph reported on the Treasurers behalf that Club funds are healthy.
Men's Captain Report
Iain had provided a report as follows;
In the latest NSP Grand Prix handicap, Ron Ingram was 10th and in the overall series Terry McCabe is in 3rd place.
In the fourth winter series handicap races of this season, Jordan Middlemist won the race and was fastest on the night.

 

Dave Roberts is currently leading the series.

 

Ken Turnbull and Martin Gaughan complete the top 3.
The Northern Cross Country Championships were held in Sunderland.

 

The senior men had a 12 km course to do.

 

Our representatives all completed the course and Blyth were 36th team overall.

  

Thank you to all who attended.
The Brass Monkey Half Marathon recently took place near York.

 

Robbie Barclay and I participated.

 

Robbie had a great run in 1:21 and was 86th out of approx 1500 runners.
In the Indoor Athletics monthly meeting at Gateshead Stadium Blyth men were represented by Iain Singer in the High Jump.

 
Ladies Captain Report
Helen reported the following;
Tuesday 11th January was the 5th NSP grand prix race: 6 ladies ran with 2 finishing in the top 10 fastest finishers.
Well done to Alison Lowes who ran in the popular Brass Monkey half marathon on the 23rd January.
On January 29th Blyth ladies made history at Herrington Country Park, Sunderland. It was the first time we have had a ladies team finish in the Northern Cross Country Championships; Hayley Masterman, Heather Christopher, Phillippa Baxter, Dawn Palmer, Susanne Hunter and Helen Morris all ran the course. It was an 8.2km, 2-lap course, with a gruelling couple of hills over a sea of mud. The ladies finished 16th team out of 20 and 7th north-eastern team. It was all about quality that day with 190 finishers. The girls then stayed on to give great support to the men. A wonderful day for all. Very well done girls.

Phillippa

Baxter ran in the 3rd indoor Gateshead meeting in the 60m hurdles and was 1st senior woman in 16.44.
The 4th Winter Series race took place on the 2nd February; Heather Christopher was the fastest lady overall.
6th February was the 3rd harrier league fixture at the town moor. Unfortunately there was not the same enthusiasm from the ladies as the previous week. However, I represented the ladies and ran on the mud bath, quagmire of a course and enjoyed it. Hopefully, we will see the ladies back in force for the next one. The ladies are currently lying in 13th position in the grand prix with 41 points out of 28 teams.

This Saturday is the north-eastern royal signal road relays and the ladies have a team.

Details will soon be given out regarding out senior track and field league to all lady club members.
Juniors
Keith reported the following;
Blyth

members represented Northumberland in U11's Regional Final (Girls 3rd team, boys 4th team)

Several ran for Northumberland in schools inter counties on Saturday

Need U13's andU15's for Regional Sportshall Finals, same day as Wrekenton harrier league

Dates for YAL sorted, 3 at Monkton, 1 at Harrogate. I'm unavailable on 5th June
Trying to sort date for Junior Beach race, need to look at tides/races etc
Grand Prix
Mal and Aynsley reported that they were busy formulating the leagues. They will review the format for 2012.
Social
Aynsley had looked at various venues for the Presentation Night on Saturday 7th May, but had decided that we would be using the Sea Horse. It was noted that the Chairman and 1 other committee member were not happy with the chosen venue. Aynsley later confirmed that the only available date was Friday 13th May.
Aynsley was also looking at other functions; the first being a Ceilidh evening.
AOB:
Winter Series – The postponed race will be on Wednesday 16th February.
Blyth Valley 10k – Ralph gave an update. Everything was still on course for another successful event.
Summer Cup –. Iain Singer had sent a message to say he was available to assist with helping others with the Summer Cup this year. His work commitments may mean he has to miss the odd race. He will be ok for the administration at the beginning and the majority of actual races. A new race organiser will be required to work with Iain and Kevin. It was agreed that the scoring will be the best 4 from 6 races. Due to amount of other races/events on Wednesdays during the summer months the races will be on a Tuesday or Thursday evening.
Club Mark Accreditation – Kevin and Ralph will look into this.
CVA Blyth Valley Funding - After meeting with CVABC to discuss funding, two letters have been sent off; one for first aid course, one for equipment for North East Cross Country Championships.
North East Cross Country Championships 2011 – This item was discussed at the NECAA meeting on 4th February. It should be turn of a club from south of region, and this will be discussed next week. NECAA will inform BRC ASAP.
Presentation awards evening - Steph Ramsay is to attend a presentation awards evening at Linden Hall.
Coaching - Steph Ramsay will be undertaking an Athletics Coach course on 5th & 6th March. Heather Christopher will be undertaking an Athletics Leader course on 20th March. Several coaching nights/presentations/training sessions arranged by EA and NMAN (everybody has been emailed details)
Athletics camp - We will be organising a three day athletics camp during May half term with 3 two hour sessions during Easter, at the minute it will probably be Keith Willshire, Steve Walker, Steph Ramsay and possible Craig Birch coaching. BUT we will be charging and getting paid (expenses).
Compression socks – Iain Singer had passed on a request by the junior and senior ladies for Mal to introduce some green compression socks into club stocks. There seems to be is quite a demand for them within the club. Actually sizes would need to be determined.
Club members concerns – Iain Singer had been asked by club members to express concern about the amount of races there are in February and March. Iain highlighted the following; Wrekenton Cross Country – 26th February, Snake Lane - 27th February, Winter Series - 2nd March, Haweswater - 6th March, NSP Grand Prix - 8th March, Blaydon Cross Country - 12th March. He had been asked why the committee and Grand Prix Committee hadn't taken all these races into account, surely we should be encouraging people to participate in the cross country races and not miss them. It was agreed that it was too late to correct the situation for this year, but the race committee would give careful consideration for 2012.
Mens 12 Stage & Womens 6 Stage Road Relay Championships – These championships take place on Sunday 20th March 2011 at Catterick Garrison. We will attempt to enter teams for both
The meeting closed at 9:47 p.m.                      Date of next meeting – Monday 7th March 2011, 8:30pm start
Fixtures
March
Sun 27th – Thirsk 10M, Thirsk    
Sun 27th – Run Northumberland Half Marathon, Wallington    
April
Sat 02nd – Cartmel Trail Race, Cartmel    
Sun 03rd – Blyth Valley 10K, Blyth    
Weds 06th   Final Winter Series
Sun 09th – Allendale Challenge    
Sun 10th – BUPA Great Ireland Run 10K, Dublin  
Sun 10th – Sand Dancer 10K  
 Sun 17th – Virgin London Marathon, London  
Sun 17th – Wallsend 5M Multi Terrain Race    
Fri 22nd – Elswick Good Friday Relays  
Sat 23rd – Anniversary Waltz/Teenager with Altitude  
 Sun 24th – North Tyneside 10K  
 Sat 30th – Coniston Fell Race  
May
 Sun 01st – Keswick Half Marathon  
 Mon 02nd – Tees Barrage 10K  
 Wed 04th – Gordon Smith Relays, Wallsend    
Sun 08th – Leeds Half Marathon  
 Tue 10th – Les Allcorn 10K, Alnwick  
 Sat 14th – Fairfield Horseshoe  
Sun 15th – Middlesbrough 5K  
 Sun 15th – BUPA Great Manchester Run 10K  
 Sun 22nd – Pier to Pier Run 7.5M – South Shields  
 Sun 22nd – Windermere Marathon  
 Sun 22nd – EMF – Edinburgh Marathon & Half Marathon