RUNNING

 
Mar 10
 

COMMENTS

               

  
(Plus the usual drivel as we boldly drivel where no man has drivelled before)
Northern Cross Country Championships at Witton Park, Blackburn
(The loneliness of the Long Distance Runner)
Some people at Blyth say 'I'm not going all that way just to run seven miles' as if the Northern Cross Country Championships were beneath them. At a damp, murky, foggy Witton Park, just as I started my fourth and last lap I was wondering why I hadn't joined them. Usually at the Championships I gauge my fitness by which lap I'm on when the leaders first pass me, as I was just starting the second short lap and still had that plus two long laps to go I knew I wasn't very fit. Actually the first part of the course was flat but very heavy due to all the recent snow and rain, but this was just a prelude to the 'short lap' which included two very steep hills (think Prudhoe and then add another 20 yards), followed by two long laps (I think the course was designed by Marquis De Sade). Only four senior men had travelled down and Iain Singer was first back, followed by Kevin, Ralph and then me with only about a dozen people behind me. For the senior women, Susie was first back with Helen next. There were Blyth Juniors in most races with Emma Freeman and Steph Ramsay taking part in the first race and then telling everybody how hard it was. Actually we should have realised how heavy it was when Charlotte couldn't even walk the course without falling down, although she did manage to finish the race without further falls. The under 15 boys finished 20th team with Scott Povey first back, Jake finishing on one shoe, Chris A elbowing some little lad out of the way and Scott G manoeuvring around the course very niftily. The under 13 boys finished 20th team with Jacob Hall finishing in 61st position, the best by a Blyth runner, while the two Josephs and Steven all finished strongly and covered in mud. We only had one under 15 girl and a lack of training caught Rebecca up, but she still finished strongly on the run in.
After the race, it was time to discuss the course, take the tent down and make arrangements for the Nationals at Leeds, which we assured anybody who was listening is an easier course.
Cross Country Championship races tend to be longer and harder than the usual Harrier League and the standard is usually very high, for instance the first boy in the Under 15 North Eastern Championship was only 15th here. But the camaraderie and friendliness amongst the runners from other clubs and from all abilities is gratifying as they support all the runners still on the course.
And for those who think that cross country won't help their training it's worth remembering that Steve Ovett, Seb Coe, Steve Cram, Kelly Holmes etc etc all ran in cross country and the Nationals and it didn't do them any harm.
National Cross Country Championships at Roundhay Park, Leeds
(The loneliness of the Long Distance Runner – Part 2)
"Just up the hill and then along a flat bit and you are finished", it sounded so easy the way the marshal said those words. Only one problem, the hill in question was longer and steeper than Stakeford bank and then there was about 500 meters of thick mud to wade through. After nearly 3 laps and approximately 7 miles of "running" through thick mud and steep hills, I thought back about 50 minutes when I had first attempted to run up the hill – my initial thought was "I'll never manage another 2 of those", but here I was and it was still light; plus there were even some people behind me. Just walking to the pens for the start (through the tent) we had to wade through 6 inches of mud, and then we were off for the cavalry charge of 1500 runners, 3 laps and over 7 miles of mud (and hills). Funny enough the mud never seems to bother the runners at the sharp end as they lapped me and sprinted up one of the hills. As usual there was plenty of encouragement from the sidelines – YES I know to use my arms when going uphill, YES I know to keep my head up and not look down, but I was basically just concentrating on putting one foot in front of the other.
For the Senior men we needed six for a team, but we only had five, Iain Singer was first back (61:32), followed by Dave Bradley (62:23), Ralph(65:23), Kevin (66:46) and then me (68:02). Both Ralph and I have done this course before, 2 years earlier for the Northern's and we were both 10 minutes slower this time
At least the women had a team with Susie Hunter first back (37:17), then Helen Morris (39:15), Sarah Kaminski (44:44, who had travelled up from Lincoln) and Alison Lowes (53:14). The women finished as 4th team from the North East
The first race of the day was the under 15 boys and Blyth finished 2nd team from the North East, with Jake first, Scott P second counter, Michael Scott and then Scott G.  The Under 13 boys also finished as second team from the North east with Joseph Dungworth, Mark, Joseph Woods and Steven finishing.  Charlotte produced her normal steady run to finish in 257th position. Rebecca was the sole U15 girl from Blyth and finished in 272nd position, while Emma was 154th in the U17 girls with Steph 189th.  In the Junior Mens race, Craig Birch was the only runner from Blyth (and possibly the north east) and finished in184th position.
Next year it's back to Alton Towers where Ralph uttered those immortal words "Never Again"
HARRIER LEAGUE
The fifth Start Fitness NE Harrier League event took place at Temple Park on Sat 20th Feb in sunny but cold conditions.  Blyth had a total of 27 athletes taking part in the various races on the day; it was particularly good to see a much better turnout by the senior men.
In the U/13 girls race Charlotte was 16th and in the U/17 women's race Emma, (starting from the fast pack) was 8th and 4th fastest overall, followed by Stephanie in 13th. In the ladies race, Susanne was first home in 20th (6th vet), followed by Helen in 40th, Phillippa 64th, Angie Brown 83rd, Joanne 106th, Sharon 108th and Alison 111th.  Another good turnout by the ladies resulting in 9th team on the day, and with one event left they are lying 6th in the league.
In the U/13 boys race Stephen Doris was 14th and Joseph Woods 37th, the U/15 boys finished first team with Christopher Arkless 5th, Jake Jansen 10th and Scott Povey 16th.  It is a shame that the U15 boys didn't have teams at the Town Moor and Wrekenton events as they have been first team at the other two races.
The Mens race saw Blyth field 12 runners, the most so far this season, and it showed in the results where they finished 6th team, a vast improvement over the previous races.  They are now 10th overall in the league (11 teams), equal on points with Blackhill Bounders and just ahead of Houghton.  With two teams being relegated the men must beat these two teams in the final event at Prudhoe to stay in division 2.  The good team position was helped enormously by Andrew Henderson who finished a magnificent 4th and was backed up by Robbie in 54th, Craig 133rd, Steve Richardson 143rd, Graeme Stewart 184th, Dave Bradley 232nd, Iain Singer 242nd, Ian Baxter 245th, Kevin Freeman 280th, Keith 281st, Ralph 283rd and Terry 295th.
Hopefully, the men will have another good turn-out at Prudhoe and get the same results
Summer Cup
At a recent committee meeting, this year's summer cup was discussed. Several members seem to think that there are too many races, therefore it was decided that the Summer Cup would be shortened to 4 races. Dates to be announced later on, first one will probably be first week in June.
Predictor Race
Just as I writing that we have too many races…
If we have enough interest (and this would just be for a bit of fun and to be used as a training run). Instead of blaming the handicapper, you decide what your time will be for a 3 – 4 mile run.
This is about knowing your pace. You run a pre-announced course of approximately 4 miles and are required to predict your finish time. Essentially the winner is the runner who most closely matches their predicted time but we might add the odd additional challenge on the day! No watches allowed.
Refuelling after training and competition.
The following table gives you general guidelines and can be applied to middle-, long-distance runners and sprinters (when competing in several heats or after an intensive and long training session).
     When?

   What?

   How much?

  Why?

During 1st 30 min

after

event/training

session

After 2 h



OR every 2 h for

       4-6 h

Ideally eat a snack

(see examples below)

containing lots of

carbohydrates ,

some protein and a

bit of salt (only if

sweated a lot)

Drink appropriate

amount of fluid

Eat a meal (see

examples below)

based on plenty of

carbohydrates, fruit

and vegetables and

some meat/fish or

vegetarian

alternatives (pulses,

quorn, etc.)

OR snacks containing

plenty of

carbohydrates and

some protein

Continue drinking

adequate amount of

fluid

1g carb/kg body

weight

E.g.: an athlete

weighing 50kg should

aim to eat 50g carb

Carbohydrates are

used to replenish

muscle glycogen

stores (the primary

energy fuel for

muscle)

Proteins are used to

build and repair

muscle tissues
For those performing heats, if time between heats is under 2 hours then it is better to avoid solid
food and to top up fuel by drinking small amount of isotonic sport drinks regularly or eating a small
snack and drinking some fluid regularly. The latter will depend on the temperature and humidity of
the day
Examples of snacks providing 50g carbohydrates and high quality protein:
250-350ml commercial or home-made milk shake (semi-skimmed milk + flavoured Nesquick
powder)
Banana or other fresh fruit + yoghurt
Sports bars (check label for protein and carbohydrate content)
1 peanut butter sandwich
1 cheese/meat/fish/chicken filling + salad (optional) sandwich and 1 large piece of fruit or 300ml
sports drinks
Tin of rice pudding
Banana + custard (already made, as easier to transport)
Examples of snacks providing 50g carbohydrates:
800-1000ml sports drink
2 sports gel
60g packet of jelly babies
2 large (35g) cereal bars
Examples of meals:
Pasta bolognaise + salad
Pizza + meat/chicken/seafood + vegs topping
Salmon + vegs + potatoes
Chicken+veg stir fry + rice
Remember what suits one athlete may not suit another, therefore experiment and choose snacks/meals you like. Use training sessions and minor competitions to do so!
Juniors
          Good Friday Races – Newburn
These are very popular races in the North East and are held on Good Friday (2nd April, first race 11:00) at Newburn Industrial Estate. Any Juniors interested in competing see Keith. Normal age categories apply although there maybe a race for the Under 11's.
           Junior Handicap
This years Junior Handicap will be on Monday 26th April. Further details to follow
           Harrier League
One race left, Prudhoe on Saturday 27th March. Nice to have a good turn out for last race
         

Young Athletes League
Once again we will be competing in the Young Athletes League as a composite team with Alnwick Harriers.
The teams in this year's league are: Birtley, Blaydon, Chester-Le-Street, Middlesbrough Mandale, Scarborough and Houghton Harriers.
The dates are: Sunday May 2nd, Sunday May 16th, Sunday June 20th, and Sunday July 18th
I will be distributing availability forms soon
What's what in track and field.
There are many different types of competition that members can get involved at various levels depending on ability and need. This is a guide to help you decide what you could or should be doing.
Leagues - There are two leagues in which the club fully participates, i.e. the club affiliates to these leagues and pays the fees (for all other meetings athletes are responsible for their own entry fees)- the YAL (Young Athletes League) for u13, u15 u17 boys and girls, and the North of England T&F League for u17, seniors and vets. These provide a reasonable standard of club athletics - each league has a fixed format for each fixture. There is a mid-week league in which athletes of all ages can compete, although the club does not treat them as a team competition - the NEAL (North East Athletics League) is held on Wednesday evenings at Gateshead and Jarrow. Track events are run as graded races i.e. athletes of similar ability run against each other - which promotes better performances. For u17 and u20 athletes looking for specific events (e.g. 2000m s/c) and/or a good standard of age group competition there is the NJAL (National Junior Athletics League) - the club is not a member of the NJAL, but athletes can access the NJAL by joining a NJAL club 2nd claim (e.g. Gateshead).
Championships - the first level is North East Counties held usually at Gateshead early in May. It would perhaps be better if it was held in July, as it would then be a target for the season for the middle 50% of the ability range. Includes events for all age groups. The second level is Northern Athletics regional championships, with separate two day championships for u15/u17 and u20/Sen - this is quite a high standard for top 20% The top tier is National Championships which have qualifying standards. The more able school age athletes will also be aiming for the English Schools Championships for which there are qualifying standards.
Open Meetings - these are generally held early and late season - each meeting offers variety of events. The early season meetings often have "mid" distance track events e.g. 300m, 600m & 1000m 1500mSC as preparation for specialist events
British Milers Club events - These are held at various levels locally (at Jarrow) and regionally and nationally at distances of 800m+ The races are both paced and graded - and are where most middle distance runners set PB's.
Veterans - whilst veterans can and do compete as seniors, there are league events and championships for those aged 35+ where there is a good standard of competition without the fear of being blown off the track by "young whizz kids"!
Fixtures – at the moment most of the dates are available on the website,
The Senior Team had has formed a composite team with Wallsend and will be hoping to improve on last years results in the Northern of England Track and Field League. The new season is starting soon and we would like to build on the many great performances of last year. So we need male and female athletes of any standard to compete. You can be aged from 15yrs to vet. The events are; steeple chase, 5K (male), 3K (female), 1500m, 800m, 400m, 200m, 100, 100mH, 400mH, long jump, triple jump, high jump, pole vault, shot putt, discus, hammer, javelin. You can compete in more than one event if you wish. The meet is an enjoyable day, so why not come along and give it a try. As most people should be aware Blyth have formed a composite team with Wallsend Harriers and finished third in their first season. This year we have to organise a meeting on Saturday 1st May at Churchill Playing Fields, Whitley Bay. So  even if you cannot compete you can still come along and support your team and help to move some hurdles.
Teams in the league are: Blaydon Harriers, Middlesbrough/Hartlepool, Houghton, Richmond,  Scarborough, and Tynedale. Other dates are Saturday 5th June, Sunday 4th July and Sunday 31st July. See Ralph for more details. 
Track Season
<![if !vml]>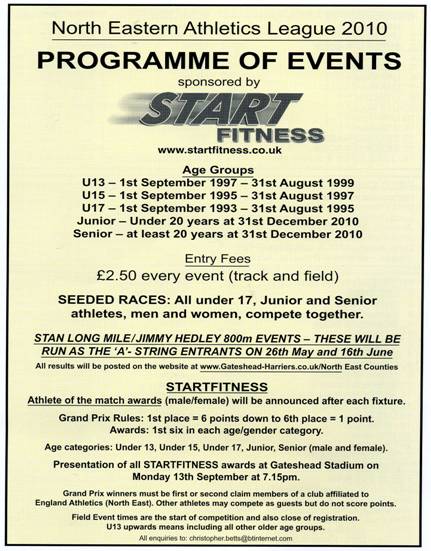 <![endif]>The fixtures for the North Eastern Track League track season are printed below. Any Junior who wants to run in the track league see Keith  for further information as the races are different at every  event (i.e. one meeting will have an 800m race while the next may have a 1500M race). Normally athletes have to pay their own entry fees, although the Club may pay for any relay races. These events are not just for Juniors, if any Seniors are interested see Keith for details.
Wednesday Evening 18:30-21:30
28th April        Monkton Stadium
26th May         Monkton Stadium
16th June        Gateshead Stadium
14th  July        Gateshead Stadium
28th   July       Monkton Stadium
11th  August   Gateshead Stadium
Younger Athletes  – Gateshead Stadium
<![if !vml]>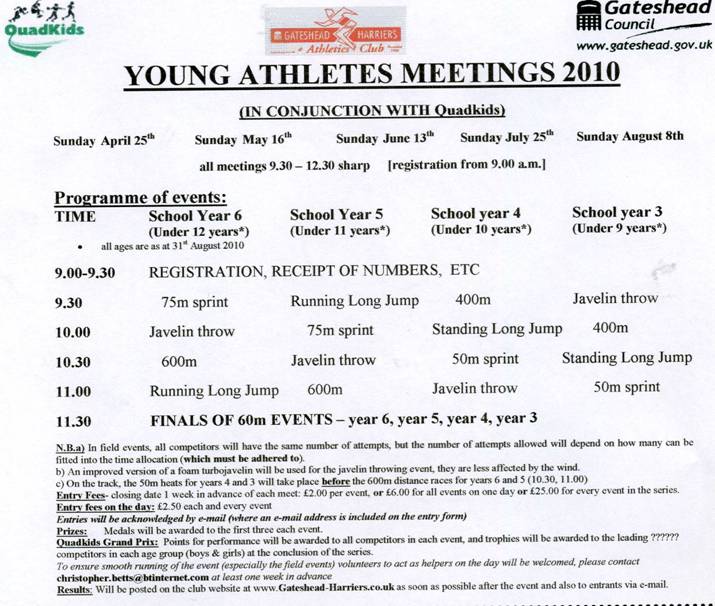 <![endif]>
Volunteers/helpers required
Blyth Valley 10k – "Spirit Of The Staithes"
This years Blyth Valley 10K will take place on Sunday 25th April at 10:00 and this year is being sponsored by Port Of Blyth
As usual we will require a large number of volunteers to ensure that the race goes off smoothly. We will probably require marshals, people to take late entries, man the drinks station etc etc
This is also the same day as the London Marathon so we may well have a few people missing for that.
Officials
if anybody is interested in becoming a track or field judge can they let Ralph know as we need to provide some at the T&F meetings and we can arrange training                                                       
                                         Blyth Running Club
Minutes of meeting held 1st February 2010
Apologies: Keith Willshire, Susanne Hunter, Iain Singer and John Mallon
The meeting commenced at 8.37 p.m.
Minutes of meeting held 4th January 2010 were read and approved. This was proposed by Craig Birch and seconded by Dave Kitching.
Matters Arising
SWOT – under item 7.c) Ralph had still to remind all coaches to check dates of coaching certificates and CRB and that they are valid and up to date.
Chairman's Report
Firstly, membership fees for BRC are due on 1 January each year, I therefore urge all members to renew their membership fee ASAP. Members should be mindful of the new family membership fees at attractive rates.
A new-look BRC website is up and running and evolving. I urge all members to view the site and feed back constructive comment to Steve Walker who manages the site.
Thanks to all members involved with preparation work of the postponed NE Harrier League Cross Country fixture at East Cramlington on 9 January, 2010. The weather and underfoot conditions were bad and the correct decision was made. Special thanks to Ralph, Dave, Keith, Mal and Aynsley.
BRC looks forward to working with the NE Harrier League in the future should it be possible to rearrange this popular fixture.
It was great to see BRC represented at one of our targeted Cross Country events, the Northern's at Blackburn on 24 January, 2010. The Under 15 Boys team did particularly well.
I urge Club Captains to galvanise the members into running at Leeds in the Nationals on 27 February, 2010, where it would be fantastic to return senior Mens and Womens team.
Since the last Committee Meeting the club held its AGM. On a night when weather was awful it was encouraging to see 21 members in attendance, only 1 down on previous year. A dignified, democratic and seamless process was witnessed as all three officers and nine committee members were returned unopposed, charged with the management and governance of BRC for 2010.
Secretary's Report
Ralph reported the following;
33 members have been entered for Haweswater.
Members were informed about online entry only for Coastal Run.
An email has been circulated asking for entrants into the Keswick Half Marathon.
We have had 8 new members since the last meeting; 3 seniors and 5 juniors.
A list of juniors for 2009 has been given to Keith to assess which are likely to renew for 2010.
Treasurer's Report
Dave gave a report on the current financially status of the club and stated that funds are satisfactory.
Mens Captain Report
Iain supplied a report for Ralph to pass on;
Winter Series -

Well done to Andrew Henderson returning well after injury and to Colin Seccombe for continual improvement.

Brass Monkey Half

Marathon

-

Dave Bradley competed well in this race in wet conditions, together with a good representation from our senior ladies

Northern Cross Countries

Blackburn

-

The club was represented by our senior ladies and male athletes on this very difficult course. In foggy conditions all acquitted themselves very well against the best Northern Cross country athletes. Over 600 took part in the men's race. The distance to and from this event was indeed a long way; it was commented by another athlete that it was good to see

Blyth

runners here. Thanks to Kevin, Ralph and Keith for racing. Not forgetting their contribution in assisting the juniors in getting to the race and back home.

Harrier league (Elswick – Town Moor) -

The senior men had one full team out (6 runners) plus 2. Thanks to all 8 for attending in the snowy conditions.

2 to 3 inches of snow covered Newcastle Town Moor for the second Harrier League meeting of the season. An icy wind meant the majority of clubs erected their club tents behind the protection of the hedge bounding Exhibition Park. As this location was at least 200 metres from the Start/Finish area Blyth decided that they would brave the artic weather and erect their tent at the Start area to save their runners the long cold wait as they were called up for their events.
The Club tent seemed to act as an oasis for the other clubs who seemed pleased to gain some respite from the biting wind. Although the weather had put a good number of Blyth runners off, we still had runners in the majority of events, with full teams in both the senior women's and men's races.
As for the race itself the icy wind blowing against the runners, combined with the snow underfoot made it quite hard on the outward journey, and it wasn't until the runners had covered two-thirds of the 2.1-mile short lap that the wind and ground conditions became more favourable. Thankfully for the junior contingent they didn't have to contend with the two very large mounds known as Cow Hill, and I'm sure the seniors were just as grateful they only had to contend with these hills once on the last lap.
In all Blyth had 22 members taking part on the day and I'm sure they all enjoyed it to some degree.
Ladies Captain Report
Helen reported the following;
On the 23rd January Susanne and Helen travelled to Blackburn, to compete in the 2010 Northern Cross Country Championships at Witton Park-(a regular venue for the championships, in fact I did this course 9 years ago). It was a tough 5mile 3 lap course, with 2 hills on each lap and 3 on the third lap. Conditions were good. Susanne did well to finish 118th and Helen finished 150th. The race was won by Hatti Dean of Hallamshire Harriers.
The following day 4 senior ladies competed in the Brass Monkey Half Marathon; Julie, Adele, Davina and Alison and they all ran personal good performances. Well done girls.
On the 30th January, it was the 3rd fixture of the harrier league at Newcastle Town Moor. It was great to see 5 ladies compete in the snowy conditions on a longer course than usual. The Blyth team finished 7th overall and are currently 8th team in the grand prix series. Well done to all who ran. I would like to mention Phillippa Baxter, a newcomer to cross country. She must be keen, as she bought some new spikes to race in.
I have received a recent email from a potential new starter who saw my details on the notice board at the sports centre.
Finally, congratulations to Alison Lowes and Kirstie Johnson for obtaining their Level 1 Coaching Certificate.
Social
Aynsley reported the following:
<![if !supportLists]>· <![endif]>A reminder that the Presentation Evening will be on Saturday 8th May 2010 at the Sea Horse. The food selection can be arranged to suit requirements.
<![if !supportLists]>· <![endif]>The Christmas Disco has been arranged for Saturday 11th December at the Sea Horse. Again the food selection will be arranged to suit requirements.
Grand Prix
The races for 2010 have all been fixed and the leagues have all been published.
Juniors
Craig reported on behalf of Keith;
<![if !supportLists]>· <![endif]>13 juniors ran at Northern Cross country at Blackburn (Charlotte Ramsay, Rebecca Nail, Emma Freeman, Stephanie Ramsay, Jacob Hall, Steven Doris, Joseph Woods, Joseph Dungworth, Scott Goodfellow, Scott Povey,  Chris Arkless, Jake Jansen,  Michael Scott)
<![if !supportLists]>· <![endif]>The same 13 plus Mattie Jackson have been entered for the Nationals at Leeds.
<![if !supportLists]>· <![endif]>Katherine Goodfellow did Level 1 coaching, and will help on Monday nights as part of TBSF.
<![if !supportLists]>· <![endif]>Awesome Charlotte was second in Under 13 girls at the Cross Country on Newcastle Town Moor.
<![if !supportLists]>· <![endif]>Junior Beach races – there are 4 possible dates, but it will probably be either 12th June or 26th June.
<![if !supportLists]>· <![endif]>The Junior Committee has been formulated.
AOB
Changing Rooms – Kevin met with Paul Metcalf, Blyth Sports Centre Manager, on 1st February, 2010, at 9.15 am. They visited the changing room which was locked and the showers and made the following observations.
Showers – a new mixer tap has been installed recently which should remove any further issues with problems with the temperature of the water.
Room – Paul admitted and agreed the floor area was atrocious and unacceptable. The debris included numerous discarded empty drinks bottles, sweet wrappers, papers, dust and dry dirt/mud. It was noted that other areas, not locked, were up to a high standard. The probable reason for the untidy state of the room is that as it is locked and the cleaners do not have immediate access they are not keen to go back to Reception for a key. The room is used occasionally by St Wilfred's Middle School who may be the root cause of the mess.
Solution - Paul agreed to speak to the Headmaster of St Wilfred's Middle School and also advise the cleaners that they must seek the key to ensure the room is cleaned
Blyth Valley 10k – Transped are unavailable to sponsor the event and we are currently looking into an alternative. The entry form will be printed once the sponsor has been finalised. It will advertise the VAA-NEE 10k Road Championships. The licence needs to be applied for on-line. Nick Hodgson and Les Venmore have agreed to be Referee and Chief Timekeeper respectively. Other officials should be available from within the club. Ralph will seek a Road Closure for the event and also book the Quay public house. Everything looked to be on course for a satisfactory event.
Notice Board – Craig agreed to reorganise and update when necessary.
Winter Series – It was agreed that if the event planned for 3rd February needed to be cancelled it would be reorganised for 17th February.
Welcome Pack – Helen agreed to take on production of this item.
Awards Committee – It was agreed to set up an awards committee to review the awards we present at the Presentation Evening. Aynsley Herron, Dave Kitching and Helen Morris would meet on 10th February to discuss.
Track & Field 1st May 2010 – Bill & Chris Courtney agreed to be starter/marksman. Margaret Watson will be track referee. Tom Morgan will be field referee. Still need from within club/Wallsend: Track Judge, Field Judge, Timekeeper, Announcer, Results/Computer operator, General Helpers. We also need to organise St. Johns Ambulance. The Risk Assessment from last year should be OK.
NE Track & Field Championship – Entries are out for this event on 8th & 9th May 2010. This is one where you have to pay your own entry fee.
Level 1 Coaching – Well done to those who have just completed their Level 1; Alison Lowes, Dave Bradley, Katherine Goodfellow and Kirstie Johnson.
Club Base – At the AGM on 6th January it was agreed by the members that the Committee should investigate the possibility of the Running Club making use of the Rugby Club facilities.
Ralph had contacted the Vice Chairman of Blyth Rugby Club, Kevin Barrett to outline what BRC would be looking for form the Rugby Club.

The question posed was, can the Rugby Club offer at least as good a service as the current venue, if not better than the current venue?

Once the committee has a clearer picture of what's on offer we will be able to make a decision and report back to the members.

Kevin

Barrett

advised that he would forward our request onto

the Rugby Club Central Committee for them to respond. Their response is awaited.
Keith had taken the opportunity to look into other alternatives for the club base.
Newsham Pavilion - football changing rooms with showers and car parking. There is a general reception/cafe area but no bar.
Cramlington Juniors - football changing rooms with showers and car parking. There is a bar. There are plenty of cycle paths for safe running.
This information was gathered for information purposes only.
The meeting closed at 9.57 p.m.                         Date of next meeting – Thursday 4th March 2010
Kevin A Freeman                                                                                           Ralph Dickinson
Chairman                                                                                  Secretary
Proposed                                                         Seconded