The Lakeland 50
[Sat 28th Jul] 
So here we are again writing another report of another journey on the fells and trails. After aggravating my Plantar Fasciitis during the Hardmoors 55 and the pain I experienced in the following weeks I never thought I would be writing this report.
Going in to the race I had 3 goals. First was just to finish it injury free, Second was to finish within 12 hrs, Thirdly was to finish under 10 hrs which I knew would be a tough target considering the lack of big miles and lack of hills but it you don't aim high you can't reach for the starsssssssss.
If you have read my blogs I always take a lesson from each of these challenges and on this event I learned lots.
I learned that taking my caravan to these events is far better than camping in a tent, I learned that carrying only 2 x 330ml bottles was not the best Idea in that heat. I learned that my Ultimate Direction PB race vest is fantastic. I learned so much but the one thing and I say it again the one thing I truly learned is…… I started this journey not to be the fastest and win races. Not to be the slowest and come last. I started this journey to raise money for charity and to promote the awareness of the charities close to my heart. Whilst on this challenge I was not raising money for charity but I found a new charity to help support which was Frilly Lillie's. Name ring a bell? It was the fantastic staff working in the Kitchen supplying us all with our breakfasts, lunch and tea, Not only did these magical people look after us but the all raise money for the Frilly Lillie Foundation which helps send kids with special needs to experience what we all take for granted so yes we may have ran 50 miles, we may have ran 105 miles and yes we will have been in pain but remember we are lucky to be able to do what we do. Enjoy the pain. Enjoy the moment and please please put your hand in your pocket and make even just a small donation to this wonderful charity.
So on to my race report.
<![if !vml]>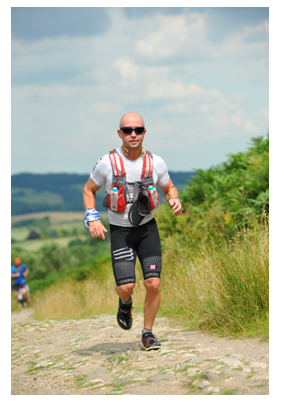 <![endif]>Leaving Dalemain I wanted to make sure that I finished the race without a DNF and with the heat my plan was very simple. Run steady and that's what I did. I really enjoyed the pace which was comfortable. Soon before reaching Howtown I passed my friend Jon Steele who I had seen earlier at the Dalemain CP. Jon was in good spirits as usual but like everyone the heat killing him, I pushed on to the next CP. Soon after Howtown I saw David Coxon who was looking fresh and again full of spirits, after a bit crack and quick photo with me using my poles to wind up Tim from The British Trail Running Podcast it was head down and off up the long slog ahead. I was again feeling good but was getting cramp in my quads so stopped every 10 minutes of so for a drink and a little 20 second rest. The decent in to Hawes was fantastic and I was looking forward to reaching the small waterfall so I could stick my head in it and grab a quick drink as I was running low on water. The run along Haweswater was beautiful but I was concerned as I now had ran out of water, I reached the bridge at the bottom, scrambled down and started gulping water down, not the best idea but I was thirsty. I made sure I had a couple of salt tablets loaded both bottles and pushed on to the CP Mardale Head. I had a couple of quick drinks and pushed on up Gatesgarth, my quads where giving me some stick again which was doing my head in as apart from a little sick feeling which I put down to the heat I felt great. Soon I reached the top which meant a long steep decent down. After around 10 minutes I could see another friend in the distance Richard Ebbs who was running the 100. Richard was doing fantastic although he was hobbling as his feet where in bits, I ran with him for about 10 minutes laughing and joking about all kinds of stuff. After leaving Richard I pushed on to Kentmere and was craving the legendary fruit smoothie. Reaching Kentmere I had a wonderful smoothie with loads of salt added as thought this might help my quads etc, I said a quick hello to Jo from Montane, checked where Steven Major and Garry Scott where in the 100 and left.
The guys at the CP had said Steve & Garry had left 45 minutes ahead of me so I pushed on up the climb. Passing a few 100 runners on the way up my pace was starting to slow not just because of the climb but I was starting to feel a bit weird which I put down to the heat, I stopped at every stream to splash water in my face which did help but not for long. On the decent down to Troutbeck I was now starting to worry about my water again but for some reason I thought there was a CP at Troutbeck. On reaching the village a woman pointed me in the direction of the route passed the post office. I ran up passed the post office realising that I had been wrong about the CP. I was now out of water so pushed on as quickly as I could to Ambleside. Descending in to Ambleside through the forest I caught up to Steve and another runner. Steve was feeling it a bit but still looked fine considering he had been running all night in the L100. I walked with him for a few minutes before saying my goodbyes and pushing on to the next CP. After a slight wrong turn I heard a voice shout hoi this way. It was another friend Andrew Hayes. He was looking strong and full of beans and was buzzing with his performance which turned out to be 3 hrs or so better than his 2012 L50. "massive well done mate" On reaching Ambleside I bumped in to Terry Conway who had unfortunately dropped out of the L100 the previous day due to sickness. I had a quick chat to which he wished me well. Running through Ambleside was amazing with all the cheering etc, the whole place really gets behind the runners which is just epic. I reached the CP at the church but this was to be a massive turning point. I entered the Hall and noticed the heat which was horrific, everything was now starting to seem fuzzy and I felt really sick. I grabbed a couple of sandwiches and soup but I could not face them (I should have forced myself to eat at this point) I gulped some water and headed out the door and towards Chapel Style. Soon after leaving the CP it started to rain which was welcome as I was overheating. I pushed on until the heavens opened which meant I had to stop and take my pack off to get my jacket out. I struggled on to Chapel style feeling really sick and was now getting passed by other runners due to my running and walking. Soon I reached the CP to which I had some stew, bread and cola. Soon I was back out and noticed Steve had caught back up to me. Amazing he looked really strong and was aiming for sub 30 hrs which was epic. Steve passed me after about 10 minutes, he pushed on as I was still struggling with sickness. (He finished in just under 30hrs which was fantastic and a massive well done) I reached the top of the next climb where I had to stop and this time I was sick, Not nice but better out than in as they say. I had a flapjack soon after that and pushed on the Bleamoss taking the high line to the CP as instructed. Soon after the CP I started feeling better , it was now dark so switched on my head torch and pushed on to the final CP Tiberthwaite. I reached the CP and decided that I wanted 5 minutes which I duly did. I filled my face with apples and oranges washed down with cola, It was like popeye eating his spinach. Up the stairs, Up the climb and on to the final CP and finish Coniston. I ran most of the way at a decent pace only slowing on the decent in to Coniston as it was hammering down with rain and my Brooks Puregrit are a nightmare on slippy rocks. Finally I reached the town to applause from the bar on the corner and people in the street saying "go on not far now" I sprinted the last few hundred yards punching the air as I crossed the finish line is 12hrs 18minutes.
What an end to another epic adventure, It was 2hrs 18minutes slower than my target time but I had notched up another 50 miles after my injury. My feet felt fine I had no blisters just a burning desire to stuff my face.
What and event this is and I can't wait to go back again next year
Tony