Harrier League Race 2 – Jarrow
[24th-Nov-2013] 
The second proper Cross country of the season took place in Jarrow on Sunday 24th. Really pleasant conditions, very little wind and not too cold. An impressive 14 gents took part with the young guns Jake, Scott and Brad, Dan and Lee and those approaching or just over 40, me , Ian, Simon, Shaun and Martin and the old masters John Mallon, Dave Bradley, Ralph D, Rob H, Kevin Freeman. 
There was a slight change to last year's course with the inclusion of a slightly tasty , though thankfully short, hill, which by the 3rd lap was rather testing ! Conditions underfoot weren't as soggy this year in comparison to last year's mud fest but there were sections on the lap that were decidedly energy sapping with the effort of just running forward a challenge.
First back for the lads was a fantastic effort from Brad who came in 7th, which may well be the best finish in xc by any male Blyth runner ! Jake was going well but dropped out having had a bit of a late one the night before, next in, in another cracking result was young Scott Povey who came in 21st, then it was Lee C's turn, getting back into form and running well, I am sure he will finish higher in the next xc this Saturday at Wallington. Next in was Mr. Dan N running really well and enjoying his xc. Next up was Shaun D who was having a bit of a tussle with Ian B, who unfortunately had to ease off at the end having pulled his calf, here's hoping for a speedy recovery Ian ! Next up it was me with Martin Scott chasing me down having a cracking run, both of us beating our old friend Ricky D. 
Next up was xc stalwart Mr. Dave B, putting in another impressive run finishing with an equally impressive Rob Hall. Next up was another xc veteran Ralph D followed <![if !vml]>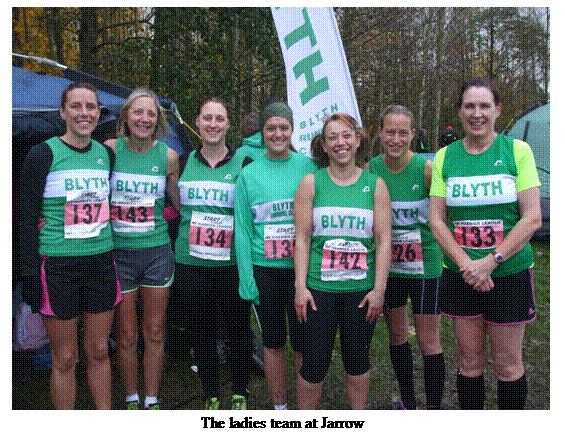 <![endif]>closely by John M then Kevin F. Bringing home the team was yet another gutsy performance from Mr Simon Sellars. 
This puts the men's team 3rd in Division 3, Well done lads !.
The Under 17 lads team should also get a special mention and be very proud of themselves as they came in first with 3 counters in the top 10 !!!!   Also running well was Connor Marshall who finished 8th in the u13 boys race.
So to summarise what a cracking day for the Blyth Guys !!!, well done everyone !, I look forward to seeing you all at Wallington !.
Steve D
On Sunday 24th November the 2nd Harrier league fixture took place at Bedewell Park, Jarrow.  There were again record numbers recorded for the senior ladies race.  The event was hosted by Jarrow and Hebburn Athletic Club and the 4 mile course which was mainly flat consisted of 2 long laps with some heavy mud and a short sharp hill.
Six ladies ran from the slow pack - with Leanne Herron first back for Blyth in 77th position; time 30.01; followed by Phillippa Baxter coming through from the medium pack to finish 142nd-in the fastest Blyth ladies time of 29.47; Hayley made up the team as third counter in 158th position.  Other placings were: Helen Morris - 178th; Louise Coulthate - 267th; Anne Craddock - 287th; and Leanne Davies (on her debut in cross country running) in 304th position.
Blyth ladies moved up to 15th position in the 2nd division.
The race was won by Sarah McDonald of Jarrow and Hebburn- who also recorded the fastest time of 24.24
Well done Blyth ladies.
Helen M
Full results on the Harrier League web site.