Salinas Valley Half Marathon California 3rd Aug 2013
[Tue 27th Aug] 
During my recent extended stay in the US, I was fortunate enough to be staying the in the Monterey region of California which is approximately 100 miles south of San Francisco. As I was planning this I knew I needed to stay focused on the running whilst abroad (balancing out my hamburger consumption) and quickly found this event about 30 miles away from our location and what a great event it proved to be.
Salinas is very much the agricultural heartland of this region and names itself the 'Salad Bowl of the World', and judging by the sights and sounds during my brief visit I can only confirm this. Fields full of crops as far as the eye can see and a certain level of 'busy-ness' and 'industriousness' at a level that you simple don't see here in the UK. The other key fact of this area is that it is home to a lot of wineries, and so they have set their race theme around this. The SV half logo pictures grapes on a vine, and for the most part the course they have chosen follows the path of those vineyards.
The run is a linear event starting at an old mission in Soledad, and then after a brief southbound effort, turning north to end up at Pesagno Winery not too far from the town of Gonzales, both, quite frankly, in the middle of nowhere. Unless you imported your support, there was very little of it, unless you'd mastered the art of talking to grapes or lettuce in the field. The scenery was most pleasant though with small mountain ranges to both the east and west, which made the climate, surprisingly, quite British – it was even 'spitting' before the race started!
Like all things American, the event was well organised (or is that organiZed), easy to park, loads of portaloos (or portapotties depending on your preference!), FREE coffee, and STARBUCKS at that, as well as a choice of other drink and foods for nothing, yes thats right nada, gratis, or thinking about it objectively, perhaps included in the £65 entry fee!!!! You think GNR etc has gone mad, US races are a lot more money than we are used to.
<![if !vml]>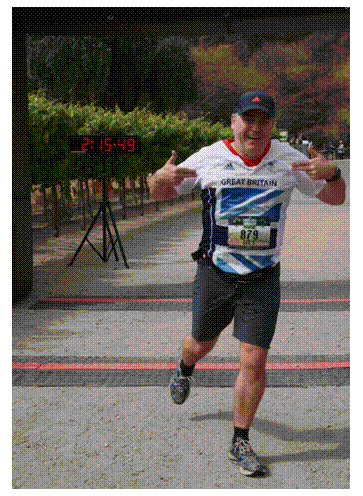 <![endif]>Donned in my 2012 Olympics, Great Britain, running shirt to ensure I flew the flag, I made my way to the start with about another 8-900 people. A quick rendition of the Star Spangled Banner by opera lady unknown, brought tears to the eyes of the oh-so patriotic Americans whilst I shuffled a bit showing my polite appreciation with my GB top on show. The local Radio guy from K Y Zee (or some such, I think I made that up), did a great job rallying the runners, and we were quickly on our way.
What I had forgot to say was that due to a side trip to Florida a few days before, some kind American had shared their head cold with me on the flight over, so with my new gift of un-wellness I really shouldn't have been running a half mara, to be honest a parkrun would have been a stretch. BUT, I had paid my £65 so I certainly wasn't going to miss it, even if I had to crawl. I had seen the medal too, a fairly unique big shiny thing with an integrated wine stopper in it, and only finishers got those, so to get my hands on one, I had to run…
So run I did, the course was mainly a combination of dusty track or worn out tarmac surface, all adjacent to those fields. Each field even had a sign telling you what was growing so I was educated on the types of wine as I progressed, I particularly enjoyed passing through the 'Pinot Noir' stage, but to be honest I think thats more of my taste speaking here as it looked identical to 'Chardonnay' stage if you ignored the grape colour (color???). The course had moderate undulations but nothing to cause concern until about 5 and a half miles where you had to ascend 150 feet over a couple of miles, nothing too hard core but that British-like weather had changed to more of Californian Sun by this stage making it a little tougher
My goal was to keep in the 9′s and 10′s inter dispersed with the odd walk, a zero pressure run which makes a really positive change. I tried to engage a few fellow runners in brief discussion, but for the most part they were quiet which I found unusual. I did occasionally find the odd 'gobshite', but when I didn't have one to hand I just sucked up the unique scenery and watched as Californian Highway Patrol on the motorbikes cruised up and down the route to ensure our safety, it was like my own personal episode of the eighties' favourite CHiPs.
On course amenities were good, water, gatorade, and good support at these points – otherwise nothing to report apart from the odd random individual from a local farm dishing out 'Ya's' and high fives to anyone willing to receive them…..I even had a go myself, very un-British, but when in Rome… <![if !vml]>

<![endif]>Some military type was running with the largest US flag I have ever seen, and he beat me, the shame….
Mile 12 had a strawberry stall, that was new, and at this point I was speaking to a chap who was certainly fitter but noticeably older than me (even if I do say so myself). He paid me the worst/ most cack-handed complement I've ever had, we were both heading for a 2.15 finish (remember I was ill!!), he told me I was doing great for an 'Old, big guy' !!!! But he said it in a very genuine and sincere way, so I pushed on past him bemused by such a statement, this was certainly one old big guy who was going to beat his ass (local venacular)
As I made it to the final mile, quite a few supporters had congregated and normal running support was resumed. A couple of boos and 'USA, USA' were thrust at me quite aggressively, but for each of the xenophobes there were ten or more inclusive and supportive people.
I rounded the corner towards the end, the PA mentioned me and Bedlington by name, and I must admit I was thankful to finish and get my then very sweaty hands on that cool medal.
A smorgasbord of goodies was at the finishing line, forget the wine, I went straight for the chocolate milk!
A great event, unlikely to be repeated by me, but I really couldn't have timed my visit to the Monterey region better. With the exception of the Big Sur Marathon down the road, Salinas must be one of the better ones they have locally and I feel privileged that I got to experience it.
Lee Simpson