Ironman Klagenfurt Austria 2013
[11th-July-2013]†
<![if !vml]>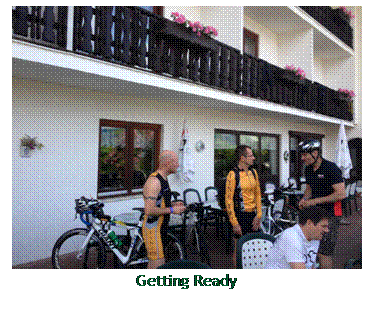 <![endif]>For those of you that follow Ironman, the title says it all.† Renowned for being one of the quickest Ironman races in Europe, if the conditions are right, this was going to be a great experience with the possibility of a PB.
Travelling out there was proving to be a bit of a challenge as flights into Klagenfurt are few & far between and only from Major London airports. I opted for the Edinburgh to Munich with a great bunch of Guys from Total Racing International (TRI) and they kindly arranged for a coach transfer from Munich into Maria Worth which is where we stayed.† The hotel, Pension Jutta, was really nice and the staff were friendly and helpful. On arrival a formal letter addressed to Ironmen and potential Ironmen greeted us in our rooms and it was then that the feelings of excitement, nerves & anticipation started.
On the Friday we all headed over the lake by ferry to Klagenfurt to register and the atmosphere was amazing. The Expo area was huge with 50 plus stands selling absolutely everything an Ironman would want from nutrition to bikes. Looking around at the other athletes you could tell this was a serious event with some very stiff competition for anyone trying to qualify (No, I wasnít even dreaming of it). Registration complete and itís now time to get back and start the prep.
The ferry back across the most beautiful lake was surrounded by scenery beyond imagination with Lake-side apartments and huge historic looking buildings blending into the forested hills. The lake looked fresh and the green reflection from the trees made it look like it was going to be a pleasure to swim in.
Back at the hotel, bike out of the bike box and the assembly began. After a little tinkering here and there it was up and ready to try it out but as time was flying by I decided to leave it until Saturday and we headed out for a meal.† Where had the day gone?
Saturday morning was spent nervously tinkering with the bike to get it ready for race day. †I couldnít seem to get my gears to index correctly but with some help from Phil Gray from TRI we/he got it working. †We cycled 12km down to transition to park our bike and bags as a group.† It was jaw dropping to see the size of transition which was a huge car park, the size of a large supermarket, full of bikes that are neatly positioned into the racks.† A quick recce of the in and out route and looking for a potential marker to help locate my bike on the day and then it's time for a quick Tyne Tri photo with Michael and back to the ferry to head back to the hotel. †The main aim for me today is rest.
<![if !vml]>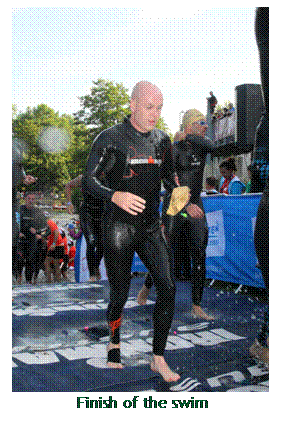 <![endif]>Cometh the hour cometh the man itís now 4am on race day and alarms are sounding all over the hotel. †Itís time to test our physical worth, our training and our minds. †Downstairs to breakfast and itís the usual for me - Weetabix x 3, a green banana, a coffee and some High 5 4:1 extra strong. †I look around the breakfast table to see a lot of worried looking faces. †Do I look like that I thought? YES. †Kit on and off we go down to our private jetty to be collected by speed boats.† Itís amazing travelling over the lake in a speed boat. †I look at Michael who is smiling from ear to ear as is Phil Smith and I feel so good. †Off we go to transition for our final checks.
Onto the start line and itís like nothing Iíve witnessed before. 3,000 athletes crammed between 2 jetties and once the cannon sounds you just know theyíll all be heading for the same buoy as you.† This is when the nerves start to kick in. †I look at Phil Smith and Michael Morrow and wish them both good luck, with a hand shake, before I head towards the front.† Looking left and right Iím surrounded by what feels like Giants. Iím dwarfed and feeling smaller than usual, I think to myself this is going to be BRUTAL!
<![if !vml]>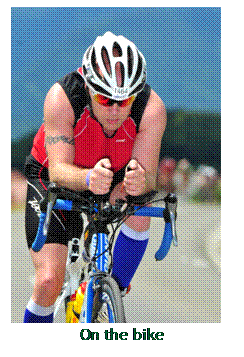 <![endif]>Before I knew it the cannon fires and we are off. †Within seconds of the start Iím being bounced around and this doesnít elapse throughout the swim. †I start to feel small again as I try to mix it up but I feel as if Iím being pushed shoved kicked and punched at every turn. †At one stage my hat and goggles are knocked off as someone swam over the top of me at the first turn and that really startled me. †My nose clip, attached to my goggles, was the only saving grace as this retained my hat and goggles so I was able to re-attach them.† Putting my hat on was easier said than done and an air pocket in my hat made me look like Papa Smurf for the remainder of the swim. †The final 1000m is up a canal and remembering the advice given to me by Phil Smith I sight using only the side banks as looking forward will disorientate me. †Thanks for more great advice Phil. †Out of the water and a quick check of the watch shows 1hr 6mins. †Iím 7 minutes up on last yearís race and feeling good Into T1 and a quick change before heading out onto the next leg.
The bike leg for me was the really important stage. After months of injuries Iíd done very little running so I needed a good split. †Straight away I felt good but exiting T1 with so many bikes made for a nervous start as no one wants to be busted for drafting.† Itís a minimum 6minute time penalty and in more serious cases it can lead to disqualification. Time to use the brain as well as brawn! †Nutrition every 20mins and plenty of fluid, mess up on your nutrition on this type of race and itís going to be a very long day. It didnít take too long for the field to spread out and me to get into my rhythm.† I train to how Iíll race so my routine was quickly established and I felt good.† 5000 feet of climbing with a strong head wind made for a tougher than normal bike section so I was surprised to see later that both splits on my bike were 2 hours 45 & 2 hrs. 46. †Back into transition and time to meet my nemesis.
<![if !vml]>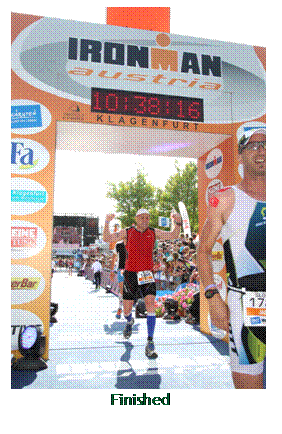 <![endif]>Itís trainers on and out of T2 really quickly. †I look at my watch and to get a sub 11hr completion time I have 4hrs 15 minutes to complete the marathon. No pressure on me at all and even with my injury and lack of running I feel confident I can complete this.† Itís here where I need to say special thanks to Connect Physical Health at Gosforth.† For me they made my race and without the guidance from Phil Smith, the diagnosis from Dr Graeme Wilkes and the treatment from Nick Livadas I wouldnít have got close to the result I wanted.† The first two miles in 13 minutes and then I said to myself ďslowdownĒ 9 minute mile pace is what you need and so I go on nice and steady. †Stopping at every aid station to collect nutrition and walking through them. †I pass my partner Paula and son Harrison at the 7mile point and itís starting to get emotional. †Blistering heat and the fact of what youíve already completed sends you into some dark places and this is when I remember the sayings people like Michael and Phil have said to me - ďPain is inevitable but suffering is optionalĒ, ďIf you are going through hell keep goingĒ. †At 8 miles I suffer my first bout of cramp, right hamstring.† Boom. †Iím on the floor clasping my leg and getting down to stretch.† A couple of minutes later Iím up and off again but I think this is going to be a very long 26.2 miles if Iím cramping already. †Before I know it Iím passing Paula again at the 13mile point and she lifts my spirits (couldnít & wouldnít do it without her). †My pace and nutrition are all going well and I have no more cramp until I pass the exact same spot on the race at 21 miles and boom Iím down again. The same as before a quick stretch and off again. Itís not up until about 23miles that I realise Iím on course for a good time and I remind myself of my target time and that I need to stay calm and continue to run as before and stop at the aid stations. Getting carried away at this stage could be costly. Itís soon after that Iím guided off the main route onto the dog leg that takes me to the finishing chute.
I look at the clock and canít believe it 10:38.
I cross the line arms held high with a mixture of pure elation and relief. Its then the pain really hits me. My feet are blistered like never before and my knees, ankles, quads, in fact itís easier to say the only thing that wasnít hurting was my ears.
Iíll never sicken of hearing those words YOU ARE AN IRONMAN.
In Summary
I met some amazing guys and girls from Total Racing International and had a fab time in a beautiful place. I would love to race again with them some day. †The race itself is magical and for me I had a perfect race. The saying fail to prepare and prepare to fail is oh so true in long course racing and before you commit you need good support from family, friends, team members & someone like Phil Smith to guide and advise you.† ANYTHING IS POSSIBLE!
Does anyone fancy a trip to Wales in 2014?
Dave Noble