Camel – Teign 100
24th/25th May 2013
Having done the 2012 Games 100 miler, I swore never to do this type of event again. So obviously 12 months later I'm on the start line for the 2013 version. This time it started alongside the banks of the Camel River at Wadebridge, Cornwall and was due to end at Teignmouth (pronounced "Tin"), Devon some 101 miles later.
The first few stages were a gentle lead in – along the Camel Trail (disused railway line) for 6 miles before a gentle climb up to a nice Cornish village of Blisland. The sun was shining, the birds were singing – what could be better. Stage 3 took us onto the edge of Bodmin Moor for the first time. The route instructions called for <![if !vml]>
<![endif]>careful navigation – I just followed the bloke in front!
Stage 4 was entirely on Bodmin Moor with a promised climb up to the summit of Brown Willy (I'll omit the obvious double entendres at this point), which is the highest point in Cornwall. Lots of ups and downs later (sorry, couldn't resist) the summit was reached and glorious views of desolate moorland were to be had! Nice run down from this across open moorland – very pleasant.  This stage also included the tourist attraction of Jamaica Inn (Daphne De Maurier). Would have been nice to pop in but had to settle for a cup of tea at the check point. The rest of the afternoon was spent going up and down hills (felt like mainly up), dropping off Bodmin to then immediately climb back on to it. Include a couple of miles along the remains of an old tramway. It was fun at first striding across the granite rock base but soon realised they weren't quite the right distance apart for comfortable running. We then left Bodmin Moor for good and had the first taste of Cornish lanes and wooded valleys
By the time checkpoint 8 was reached, the light was starting to fade and the head torches were readied. Now came the first decision and, as expected, I got it wrong! Stop now and put on warmer clothing or leave it until the main breakfast stop, 9 miles and over 1300ft of climbing further on. Clear sunny day led to clear moonlit night and bloody cold! By the time I reached the CP, I <![if !vml]>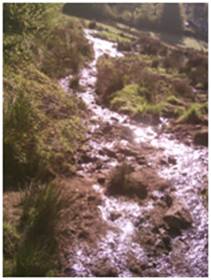 <![endif]>was shivering uncontrollably and had to put my hands under the hot water tap to allow me to unzip the bag for more clothes. A total of 26 competitors dropped out at this stage and I'm sure most of them was due to the extreme cold.
 One hour later, with a full English inside me (along with an unspecified number of cups of tea) I was ready for the off. The left leg was starting to give me a few problems but I thought a handful of ibuprofen and a blast from the pain spray would suffice. The next stage was up onto Dartmoor and was the longest stage and with the most ascent and in the dark and in the cold and with an achy leg – what fun these events are. This stage promised a 'steep climb' up to Ingra Tor (yep), an old railway line (yep – about 1.5 miles of it, all uphill), views of the brewery and the prison (saw the brewery but not a sign of the nick). A cold but very picturesque daybreak was enjoyed and eventually the decision on whether the day would warm up to an extent that the extra clothes would have to be removed before the CP. Still on Dartmoor for a pleasant section(s) before dropping down to the River Dart and tourists. However while they were strolling along the river bank in the sunshine, we took a sharp right up the nearest hill and back to the moors to pick up a track with the odd name Dr. Blackhalls Drive. Dropping off back in the direction of the Dart, the instructions stated that the path was 'damp and slippy' – see picture! This is a path NOT a stream.
The leg was getting worse and by the time the CP at Ashburton was reached, I was moving very slowly and in significant discomfort. To make matters worse, the checkpoint was upstairs in a Methodist Church. It had a stair lift but I was not quite that bad. Strange CP because we had to keep quiet due to the fact that there was a service taking place downstairs.
The next stage was a very slow affair as the leg was in a bad way. Running was not an option, just a slow limp that was getting slower. Soon after the start of Stage 14 the inevitable happened – I went the wrong way. Misread the instructions and spent a very unhappy half hour wandering round an empty trading estate before finally seeing other competitors and followed. I missed out an instruction and, with the brain not fully operational by this stage, carried on wandering when I should have just stopped and retraced my steps. An increasingly slow hobble eventually brought me to the penultimate CP – just 4.3 painful miles to go. Started badly – up a stone track, being guided by a local photographer, and not able to match it to the route instructions at all. Reason – I was looking at the wrong section! Up the hill and then had to go down a road to find a track. Must have missed it so climbed back up. No – definitely not there so back down again and there it was. Then a 1 mile trek up a stony track to a road. Can't find it, must have gone wrong so retrace for about ¼ mile and met others coming up the way I was going down. Turn again and eventually reached the road and crossed the golf course. Then there it was – Teignmouth – just 1 mile down hill and it would be over. By now I was simply dragging the leg along and in serious pain. Travelling at less than 2 mph, this seem to take forever but all bad things come to an end and the finish was reached. A lift back to the start and a well earned shower beckoned. Not easy having a shower when you can't move or bend a leg. Couldn't reach my feet to clean them so had to sleep in socks to avoid dirtying the bed sheet!
Two further items of note:-
i):- After a trip to the loo during the night, my leg gave way and I fell to the floor and, having convinced my host that I hadn't fallen out of bed, spent some time lying on the bathroom floor trying to work out how to get back into bed (no drink, honest)
11):- Reaching Paddington Station on my return trip, someone took pity on me and gave me a lift to the underground on the disabled persons truck – not what you expect of an athlete in peak condition!
After a trip to the Doctors and A & E, I'm still struggling to walk 4 days on – definitely not doing any more of these long distance events!!
I mean it this time!!!
Although it is in Wales in 2014 and I do like Wales!!
Details

Stage

Distance

Ascent

Descent

Overall

Time

Total

Stage

Distance

Time

Pace

1

5.1

517

443

5.1

0:45:00

0:45:00

 8:49

2

6.8

1104

732

11.9

1:07:00

1:52:00

9:51

3

4.7

824

469

16.6

1:06:00

2:58:00

14:02

4

6.8

1042

944

23.4

1:43:00

4:41:00

15:08

5

6.7

620

993

30.1

1:36:00

6:17:00

14:19

6

7.2

1183

997

37.3

1:58:00

8:15:00

16:23

7

6.3

659

902

43.6

1:45:00

10:00:00

16:40

8

4.8

648

1042

48.4

1:34:00

11:34:00

19:34

9

8.9

1313

1014

57.3

3:06:00

14:40:00

20:53

10

0

        BREAKFAST

57.3

1:00:00

15:40:00

0

11

9.5

1635

665

66.8

2:37:00

18:17:00

16:31

12

5.1

318

780

71.9

1:48:00

20:05:00

21:10

13

9.1

1268

1921

81

3:07:00

23:12:00

20:32

14

7.1

1009

1092

88.1

2:56:00

26:08:00

24:27

15

3.6

234

174

91.7

1:47:00

27:55:00

29:43

16

5

474

617

96.7

2:07:00

30:02:00

37:23

17

4.3

768

668

101

2:36:00

32:38:00

36:16

13616

13453
Dave Bradley