National Cross Country Championships at Roundhay Park, Leeds
(The loneliness of the Long Distance Runner – Part 2)
<![if !vml]>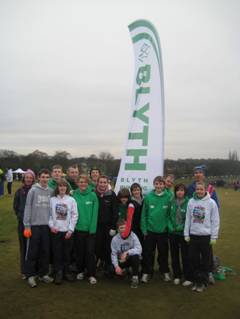 <![endif]>"Just up the hill and then along a flat bit and you are finished" , it sounded so easy the way the marshall said those words. Only one problem, the hill in question was longer and steeper than stakeford bank and then there was about 500 meters of thick mud to wade through. After nearly 3 laps and approximately 7 miles of "running" through thick mud and steep hills, I thought back about 50 minutes when I had first attempted to run up the hill – my initial thought was "I'll never manage another 2 of those", but here I was and it was still light; plus there were even some people behind me. Just walking to the pens for the start (through the tent) we had to wade through 6 inches of mud, and then we were off for the cavalry charge of 1500 runners, 3 laps and over 7 miles of mud (and hills). Funny enough the mud never seems to bother the runners at the sharp end as they lapped me and sprinted up one of the hills. As usual there was plenty of encouragement from the sidelines – YES I know to use my arms when going uphill, YES I know to keep my head up and not look down, but I was basically just concentrating on putting one foot in front of the other.
For the Senior men we needed six for a team, but we only had five, Iain Singer was first back (61:32), followed by Dave Bradley (62:23), Ralph(65:23), Kevin (66:46) and then me (68:02). Both Ralph and I have done this course before, 2 years earlier for the Northerns and we were both 10 minutes slower this time
<![if !vml]>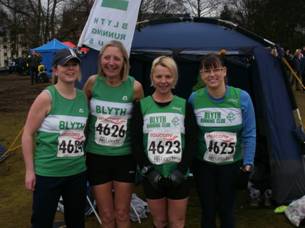 <![endif]>At least the women had a team with Susie Hunter first back (37:17), then Helen Morris (39:15), Sarah Kaminski (44:44, who had travelled up from Lincoln) and Alison Lowes (53:14). The women finished as 4th team from the North East
The first race of the day was the under 15 boys and Blyth finished 2nd team from the North East, with Jake first, Scott P second counter, Michael Scott and then Scott G.  The Under 13 boys also finished as second team from the North east with Joseph Dungworth, Mark, Joseph Woods and Steven finishing.  Charlotte produced her normal steady run to finish in 257th position. Rebecca was the sole U15 girl from Blyth and finised in 272nd position,  while Emma was 154th in the U17 girls with Steph 189th.  In the Junior mens race, Craig Birch was the only runner from Blyth (and possibly the north east) and finished in184th position.
Next year it's back to Alton Towers where Ralph uttered those immortal words "Never Again"