McCain Challenge Cross-Country
Blyth Running club had three athletes competing at the McCain Challenge by UK Athletics cross country race yesterday. This first race was in Gateshead, other races such as those in Liverpool and Birmingham in the series double up as European and World Trials for the GB cross country team.
Scott Povey and Jake Jansen competed in the under 15 event, both acquitted themselves very well in the muddy conditions.
Susanne Hunter raced in the senior ladies race; unusually this race was in the middle of the programme as opposed to the normal Harrier League format of last race. Distance was 8 km this was considerably further than the normal Harrier League ladies distance.
The course was undulating with a considerable steep climb incorporated into the route; the surface was well churned up after a few previous races. The race was won by the new Scottish International and European Junior Champion Steph Twell. In second place was another Scottish International Helen Clitheroe. This was the third time that Steph Twell had won this event.
<![if !vml]>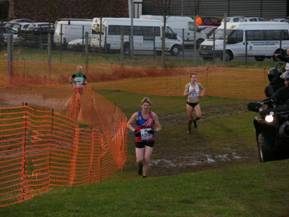 <![endif]>Our ladies vice captain ran very well, carefully following the pre race plan to the letter, after the first of the four laps she was clearly making inroads into the group in front. As it progressed and the going got tougher the athletes in the group in front were being picked off one by one, until a large gap had opened up between the first and the second groups. Susanne completed the course, coming in an outstanding 2nd over 35 lady (and 1st over 40 lady). As you can see by the photograph Steph Twell was having to kick hard at the end! (Twell in the white top).
<![if !vml]>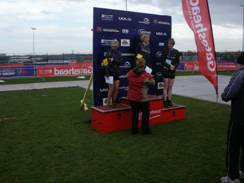 <![endif]>Prizes of a commemorative t shirt, silver (2nd place over 35) medal and cash were awarded to her in front of the press and all on the rostrum! This was a great achievement against very tough experienced opposition.
Funny, after all these years Id never thought Id ever see (or rather hear) her speechless!
The event was very well organized, with plenty of instructions, good parking and spectator activities; it will be good to see our club represented again next year and hopefully with even more entrants.  A great race programme, well done to all three of our athletes.
Iain Singer